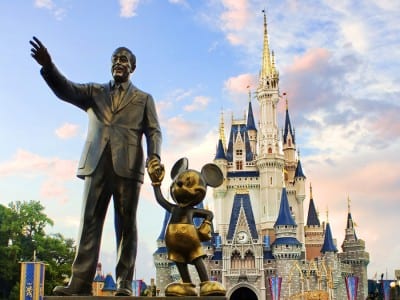 During this week of June, back in 1995, the Partners Statue made it's debut at Magic Kingdom Park in WDW.  The first statue like this, was unveiled at Disneyland two years prior, for Mickey's birthday celebration in 1993.
The Partners Statue in WDW is of course right in front of Cinderella Castle, and a favorite spot for millions of Disney Guests to take photos with/of.  No matter how many times I visit the Magic Kingdom, I always take a picture of Partners, and of course one with my family in front of it.  Why?  I mean, the statue hasn't changed since the last time!  Still, it's a tradition for me, and so many others, to take a picture of Walt holding Mickey Mouse's hand.  The Partners Statue itself is a sweet sentiment, a "Magic" moment for the man who started it all, and the mouse he started it with.

So, in celebration of the Partners Statue, and courtesy of Disney Parks, here are some fun facts that you may or may not have known about the beloved landmark.
The Partners Statue was sculpted by Disney Legend Blaine Gibson. A former Disney animator and Imagineer, Blaine took one year to create the sculpture and based his depiction of Walt on a bust he originally created in the 1960s.
When considering having Mickey hold Walt's hand, Blaine consulted footage from the film "Fantasia," in which Mickey shakes the hand of orchestra conductor Leopold Stokowski.
One early sketch of the Partners Statue featured Mickey holding an ice cream cone in one hand.
When choosing an expression for Walt's face, Blaine tried to reflect Walt's goal of making people happy. The statue's expression is Blaine's interpretation of Walt watching happy people enjoy the park.
The initials on Walt's tie are "STR," and stand for "Smoke Tree Ranch," an area in Palm Springs where Walt once owned a vacation home.
There you have it.   A little bit of fun facts regarding one of our favorite Disney things, the Partners Statue.  Of course, the next time we visit the Magic Kingdom, I will take a photo of Walt and Mickey yet again.  Some traditions never become less magical when Disney is concerned.