So you've decided to go to Disney, now what?? By Kellie Blankenship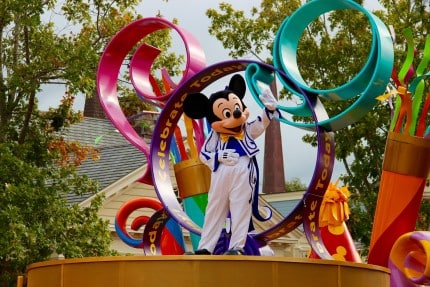 So you've decided to go to Disney, now what??
You've thought about it. You've saved a little, you've decided. You're going to take a leap and visit the most magical place on Earth. Great! But now what? Planning a trip to Disney can be a little daunting to say the least. But with a little research, some planning, and a lot of help from your travel agent; you can have the best trip ever to Walt Disney World, and make memories to last a lifetime. Here are my top ten most important things to think about when planning your dream Disney vacation.
1. Decide when you're going.
Yes, this one is a little obvious, but it makes a big difference. Are you able to travel anytime you want, or do you want to wait until the kids are out of school? Having the luxury of going anytime might save you a little money and might help out with the crowd situation. Disney also has some amazing events throughout the year like the Flower & Garden Festival in the Spring, the Food & Wine Festival in the Fall, and not to mention the spectacular holiday parties they have during the Halloween and Christmas seasons. Deciding when you want to go  to Disney can be just as crucial as making the decision to go in the first place.
2. How long do you want to stay?
Some people have said that you can be in WDW for a whole year and not see everything. While this might be true, I have found that you need at least a week to get a good idea of what all Disney has to offer. Not only are there four main theme parks that you might need more than one day in, but there's also Downtown Disney, an entertainment and shopping district, as well as two water parks. You could spend a whole day just exploring the resorts themselves! One thing is for sure, no matter how long you stay, you will never be bored at Disney!
3. Which resort do you want to stay in?
The answer to this question depends on many things. What's your budget? How close to the parks do you want to be? How important is the pool to you and the dining options? Does the theme of the resort matter? Do you want several options for getting to and from the parks? Luckily, with so many resort options, you're sure to find one that is perfect for you and your family.
4. Do you want to use the Disney Dining Plan?
This one depends a lot on how your family likes to dine. Do you like to stop and relax for your meals? Or are you always on the go trying to squeeze in as many attractions as possible? Do you like buffets, character meals, dinner shows? Then you would definitely benefit from the dining plan. If you and your family are not big eaters, don't care about characters, or sitting down for a meal, then you could probably skip it. The dining plan can save you a lot of money, if you like to experience the many different restaurants Disney has to offer. Which brings me to the next question…
5. Which type of restaurants are important to you?
Are you a couple celebrating a special occasion and want quiet, romantic dining options? Does your daughter want to meet all the Princesses right at her table? Do you enjoy dinner shows like Hawaiian style luaus or frontier family fun with your meal? How about a restaurant where you can sit in a car and watch old sci-fi movies? Are you dying to meet Mickey and his friends without ever leaving your table? Yes, those are all Disney themed restaurants! And those only scratch the surface. Whatever your dining style is, Disney has something for you, and probably something you didn't even know you wanted!
6. What type of itinerary do you enjoy?
Are you the get up with the sun type and go all day without stopping till midnight? Or do you like to take a more leisurely pace? Do you like to have everything planned out right down to rest times(assuming you've planned that into your schedule), or do you just like to go with the flow? Maybe you're somewhere in between. You'll want to decide if you want to take full advantage of being a Disney resort guest by visiting the parks during the extra magic hours in the morning and evening on select nights. You'll also want to figure out if you want to spend all your time exploring the parks, or if you want to schedule some pool and resort time into your stay. However you decide to spend your Disney vacation is totally up to you, but you'll have a much easier time if you've planned out at least some of these things before your trip.
7. What are your must-do attractions?
Some people might think that they'll just decide on these when they get to the parks, but now that Disney allows you to choose fast passes through the My Disney Experience app 60 days in advance, that's just one less thing you have to worry about once you get there. What types of rides are important to you? Are you a thrill-seeker and want to try all the amazing roller-coasters? Are you wanting to experience all the classic Disney rides from your childhood? Determining ahead of time what attractions are most important to your family, will ensure that you enjoy your time at the parks instead of trying to figure out what to do next.
8. Do you want to take any special outings?
There are a multitude of things to do outside the parks, and I wouldn't even be able to list them all here. You'll want to decide if any of these are worth your time to spend away from the parks. I'm betting you'll find that they are! Fancy a round of golf? Want to take in the latest flick, go bowling, see the amazing Cirque du Soleil performers, enjoy a relaxing massage, ride in a hot-air balloon, go para-sailing? These are just a few of the many things you can enjoy by venturing outside the parks, but you'll want to decide before you leave if you want to partake in some of these adventures as some require advanced booking.
9. Are you celebrating anything special?
Celebrating a birthday, anniversary, honeymoon? Disney has many extra treats available to you with little to no extra cost. You can request a birthday cake be delivered to your table at the podium of your restaurant. Or you can order a personalized cake ahead of time. You can order gifts and balloons to be delivered to your resort room. Disney also has special buttons that they will give you for many different special occasions. Be sure and wear these throughout the parks for special greetings by the cast members! There's nothing quite like sharing your celebration at Disney!
10. Contact your travel agent to book your amazing Disney Vacation!