Disney from a Teen's Perspective: Countdown to Star Wars Weekends: Weekend One = SUCCESS!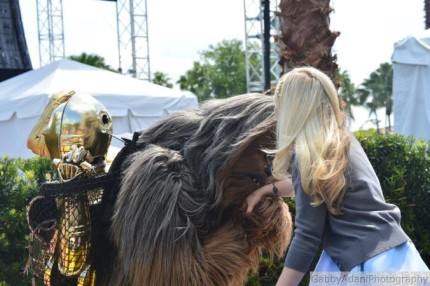 Weekend one of Star Wars Weekends has passed and we are now in weekend 2! I thought I would share a really successful first weekend!
On Friday, we headed down on opening day. We got there early to ride some rides and to get a spot for the parade! We thought that it would be fun to watch it from the back, where the celebrities go to get in their cars to ride back up to the front. You'll never guess what happened! Ashley Eckstein remembered me from last year! She remembered my name and we had a mini conversation! They even cooler part, is that she read my article about celebrity meet and greets last year! (Posted two weeks ago).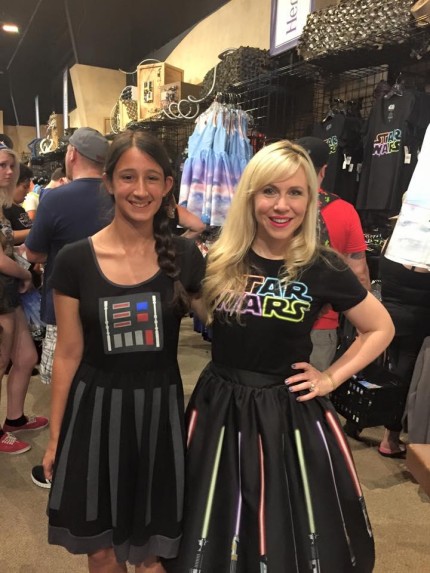 Later that day, she was having a clothes signing, which I really wanted to go to. We waited an hour and a half, but it felt like forever in the heat! Once it was time, we had her sign my ewok tank top that is really special to me. Last year when we were waiting for a clothes signing of hers, a single ewok tank came in stock. Her husband asked if anyone wanted it and of course I said I wanted it! Ashley actually handed it to me! Getting it signed a year later makes me treasure those moments even more!
The next day, we went back with the rest of the family. We once again watched the parade from the back so my little sister, Hailee, could say hi to Ashley. Ashley also remembered Hailee! During that same parade, the emperor himself Ian McDiarmid, used his lightning powers on my little brother, Aidan, since he was wearing a Darth Vader shirt! James Arnold Taylor also tried to convince us to come to the Light Side!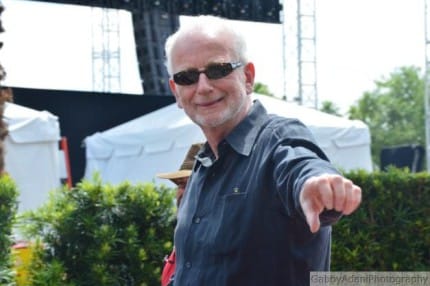 After the parade, we headed towards Star Tours for another small moment of awesomeness! Ashley ran up to Hailee saying "Hailee! I have to give you a hug!" She gave Hailee a quick hug and went to wherever they were headed. James Arnold Taylor tried to convince us to go to the Light Side again!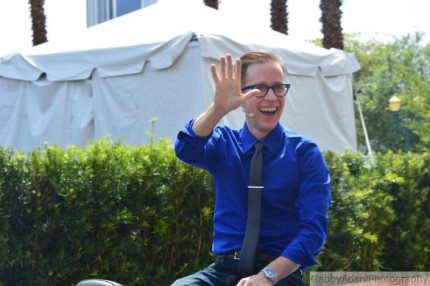 One more super cool thing! Disney was filming character greets and guess what? They asked if they could film us meeting Darth Maul! It was so cool and we got a special pin for being filmed!
Not only did we have some great celebrity interactions, we also saw the Stars of the Saga show which was a lot of fun, especially the Stormtrooper pre-show. Of course there were a ton of character meet and greets. Our favorites were Darth Maul and Darth Vader.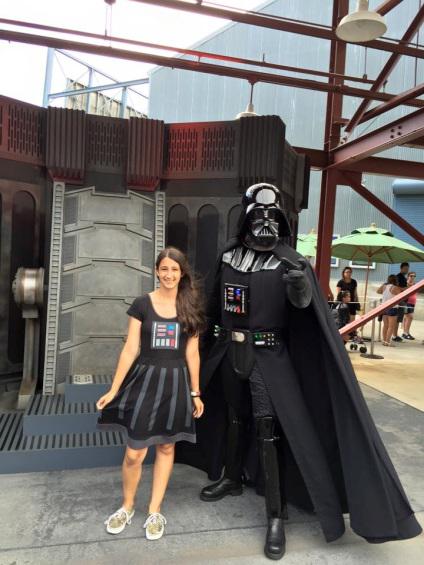 Overall, our first weekend was a huge success. So many awesome things happened in just two days! These are the small moments that you treasure. When your idol remembers who you are and read your article, you would have so much happiness flowing through your veins. I can't wait to go back and do more! Stay tuned to see what other cool things happen in the coming weeks!
About TMSM's Teen Perspective Writer Gabby Adani:
"Hi Mainstreeters! I'm Gabby and I'm going to be writing about Disney from a teen's perspective. But first let me tell you a little bit about myself. I'm 14 years old and have had Disney Annual Passes my whole life. Disney is literally my second home. I'm an honors student and enjoy school. My favorite sport is volleyball. I play for both my middle school team and the YMCA. I am also a huge fan of Star Wars."