Sixty Years of Innovation: 'Fantasmic!' at Disneyland Park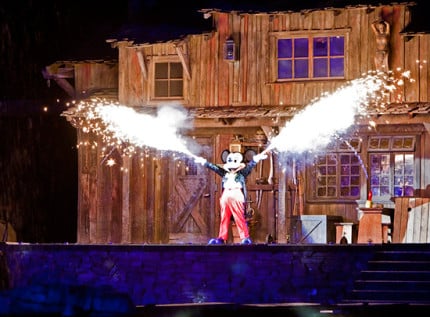 From Erin Glover, Social Media Director, Disneyland Resort and posted on the Disney Parks Blog.
Jumping ahead to the 1990s in our retrospective of innovations at the Disneyland Resort, let's look back at the year 1992 and the introduction of a new kind of nighttime spectacular, "Fantasmic!"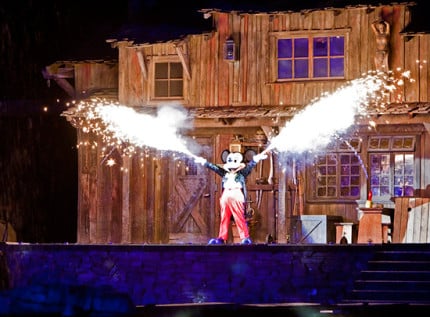 First of its kind, "Fantasmic!" featured projections on reflective mists and huge figures that seemed to rise magically out of Mickey Mouse's imagination. To prepare for the show, the Rivers of America were drained to enable installation of new equipment and mechanisms, and a new stage was built on the south end of Tom Sawyer Island. The show combined the new mist screens with Disneyland park favorites – the Mark Twain Riverboat and Sailing Ship Columbia – as well as rafts, mechanical figures, fire effects and more than 50 Disneyland cast members to bring the story to life.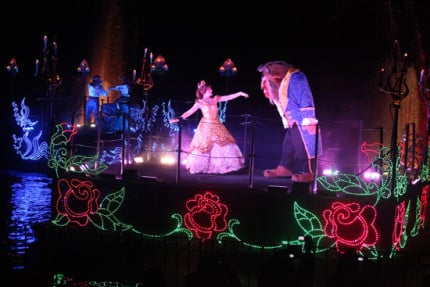 As Disney Parks Blog reader Dustin shared recently, "This nighttime show was innovative in its blending of fireworks, waterworks, animation and live action, so innovative in fact that it's still running (and very popular) today!"
He went on to say that "Fantasmic!" was the forerunner for the many successful nighttime spectaculars at Disney Parks around the world – and he's right! From "World of Color" at Disney California Adventure park, to "Disney Dreams!" at Disneyland Paris, the tradition of innovative nighttime spectaculars continues today.
And that evolution goes on when the all-new "World of Color – Celebrate!" opens for guests at Disney California Adventure park this Friday, part of the Disneyland Resort Diamond Celebration!
Co-Owner / Webmaster / Business Relations / PT Writer
As co-owner and co-creator of The Main Street Mouse. Working in a technical support position for 18 years, it was time for a change. As the Webmaster and Project Planner, I spend most of my time researching everything from the latest Disney News, technology advances and of course keeping up on all the Marvel news that comes out. I never considered myself a writer but I've come to like blogging and sharing news with all. I feel blessed everyday that I get to spend my days working with my best friend and love of my life while we continue to grow and expand what started as a hobby all those years ago.