In Honor Of Tomorrowland, Our 22 Favorite Disney Robots
From the Oh My Disney blog
Disney's glittery sci-fi fantasia Tomorrowland is full of robots. There are evil robots that look like toothy humans and scamper after George Clooney and Britt Robertson. There are kindly robots that look like a little girl and have an eye towards saving mankind from itself. There are giant, hulking robots that clang and crash into each other. There are so many robots, in fact, that we got to thinking about the other classic Disney robots that have wheeled, floated, or skittered in over the years.
Behold, our 22 favorite mechanical marvels from Disney history!
Baymax (Big Hero 6)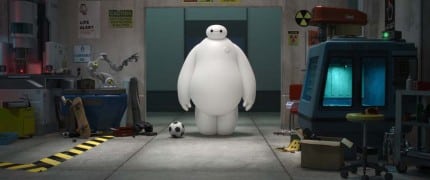 Of all the robots on the list, there isn't a single one as huggable as Baymax, the nurse robot introduced in last year's Oscar-winning animated feature Big Hero 6. Created as a home care provider, Baymax eventually transforms into a tough-as-nails superhero, ridding his sprawling metropolis of super-villainy. But it's his sweet temperament and inflatable, squishy design, not his crime-fighting bona fides that really make us love him.
WALL-E & EVE (WALL-E)
You have to be a pretty charismatic robot if you're going to carry a movie that, for the first half at least, is mostly silent. Thankfully, WALL-E is blessed with an abundance of personality. The last remaining cleanup robot on a desolate, trash-strewn earth (his name is an acronym that stands for Waste Allocation Load Lifter, Earth-class), WALL-E just follows his program, until he meets the sleek EVE (her name stands for Extraterrestrial Vegetation Evaluator) and falls hopelessly in love. It's a romance that ends with rebooting the human race. Not too shabby.
B.E.N. (Treasure Planet)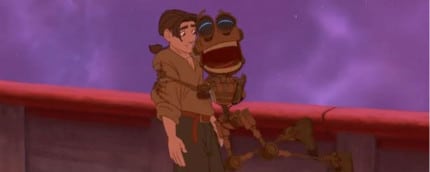 Disney's Treasure Planet, a high-tech take on Robert Louis Stevenson's literary classicTreasure Island, is filled with colorful characters, many of them alien or otherwise otherworldly (this is a movie where the main character's sidekick is a floating, amorphous blob of goo). But for sheer, goofy awesomeness it's hard to beat B.E.N., a wily robot voiced by Martin Short at his manic best (his name stands for Bio-Electronic Navigator). B.E.N. had been marooned on an overgrown planet, turning him into a bit of a loon, and a wonderful comic foil as well.
Weebo (Flubber)

How's this for mind blowing? Jodi Benson, who voiced Ariel in The Little Mermaid, also essayed the floating yellow robot in Flubber. This goes a long way in explaining audiences' emotional connection to the gorgeously-designed robot, who serves as an assistant and sounding board for Robin Williams' off-the-wall inventor.
RX-24 (Star Tours)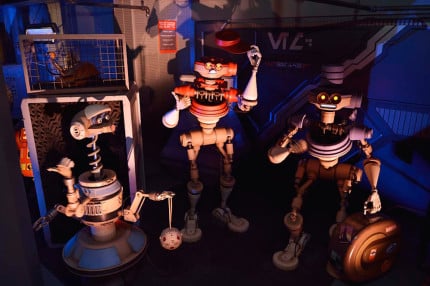 This droid, nicknamed Rex, was the pilot in the original iteration of the Disney Parks staple, Star Tours, that opened way back in 1987. (He was replaced with the installation of the Star Wars: The Adventure Continues redo in 2011.) He was charming and cheery and bumbling (partially because he was gleefully voiced by Pee-Wee Herman himself, Paul Reubens). What's more – Rex was inducted into the official Star Wars canon when he appeared in an early episode of the Disney XD series Star Wars Rebels.
Tik-Tok (Return to Oz)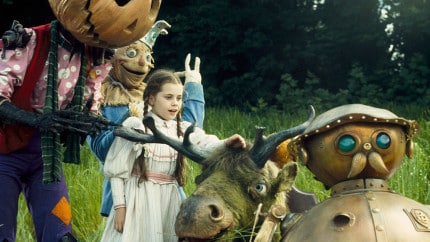 Tik-Tok, an old timey robot from the film, still holds a place in our hearts. Maybe it's that essential retro-futuristic charm, or the fact that his mustache rivals Wilford Brimley's.
Max (Flight of the Navigator)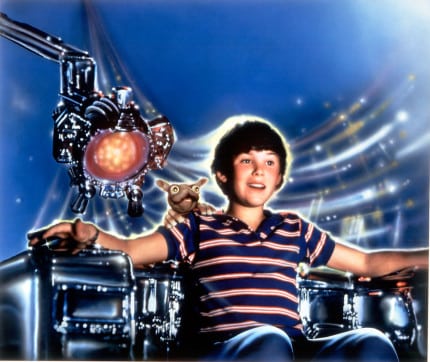 We love Flight of the Navigator, a wondrous, rollicking sci-fi adventure that was made way back in 1986 and certainly not enough appreciation heaped upon Max (voiced by Paul Reubens, making his second appearance on this list), a kind of intelligent-robotic-spacecraft that learns about earth.
The Timekeeper/9-EYE (The Timekeeper)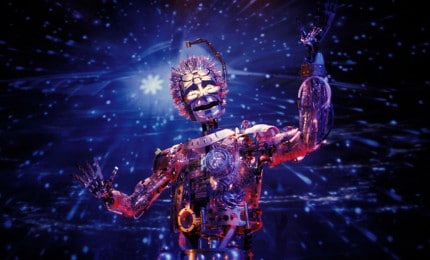 Talk about a lost relic: the titular character from The Timekeeper is one of our very favorite Disney robots. The Timekeeper was an amazing audio-animatronic figure voiced by Robin Williams, who was tasked with hosting the show that spanned the globe and included, of course, jumps in time. 9-EYE was the name of the robot who was capturing all this, each eye captured making up one panel of the 360-degree screen. This really was an inventive and wholly original take on that kind of show, made all the more enjoyable by Williams' ace performance as a truly unique robot.
'80s Robot (The Muppets and Muppets Most Wanted)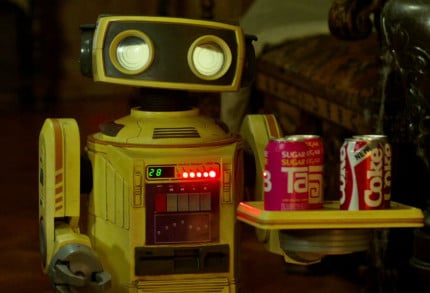 '80s robot, a boxy relic that worked for Kermit, engaged in outdated pop culture references, and offered even-more-outdated food stuffs, stole the show in The Muppets. Here's hoping that '80s Robot makes an appearance in the brilliant new Muppets series on ABC this fall.
Gobblewonker (Gravity Falls)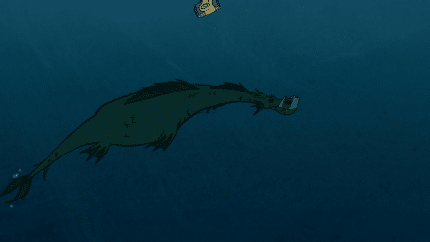 Disney XD's unfathomably excellent Gravity Falls features all manner of thing that goes bump in the night. So it was even more of a twist when the Gobblewonker, a giant sea creature that terrorized residents of the sleepy Pacific Northwest town, was revealed to be a hulking automaton cooked up by the local town crackpot. The Gobblewonker is proof that things are not always what they seem (even when they're incredibly spooky) and that robots come in all shapes and sizes.
Major Domo/Minor Domo (Captain EO)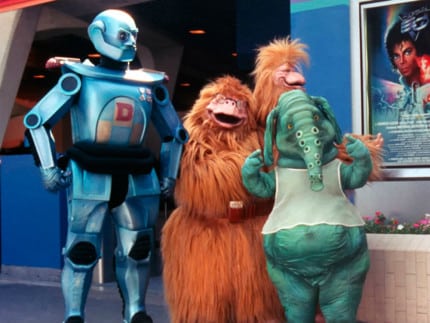 It goes without saying that Captain EO is chock full of colorful characters. There's a small furry alien with butterfly wings and a super long tail, a two-headed beast who rocks a double bass guitar, and a piggy creature who tickles the interstellar ivories. There are a couple of robot characters, too, because, really, what kind of kaleidoscopic sci-fi rock opera would Captain EO be without robot characters? Major Domo, an uptight droid, and his sidekick, Minor Domo, who mostly floats around and looks cute during the memorable, dance-in-your-seat climax add tremendously to making Captain EO an attraction that we just can't shake.
R2-D2 and C-3PO (Star Wars)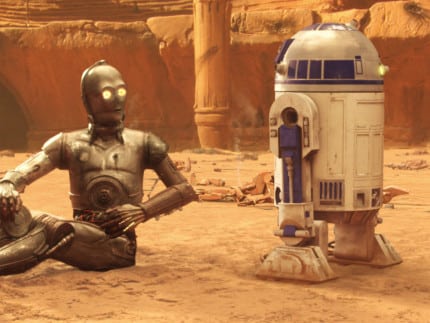 Maybe the most well-known robot duo in cinematic history, R2-D2 and C-3PO have appeared in all six Star Wars feature films (soon to be seven with December's Star Wars: The Force Awakens), several animated series, the new Star Tours: The Adventure Continues and, of course, the infamous Star Wars Holiday Special (a special that counted Bruce Vilanch as one of its many script writers and featured the introduction, in animated form, of future-fan-favorite Boba Fett). They've become more than just characters: they're the unofficial ambassadors of the entire franchise. And they're some of our favorite robots ever.
SMRT-1 (Communicore)/Gyro (EPCOT Center)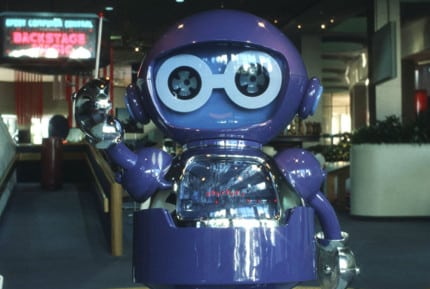 The original version of EPCOT Center, full of '80s flash and a vaguely antiquated sheen, had a high emphasis on cutting-edge technology and the figurehead for said technology was SMRT-1, a cute little robot who resided in Communicore (the precursor to what we now know as Innoventions). In those early days of EPCOT Center, SMRT-1 took on the role of an unofficial mascot. SMRT-1 was there to hold your hand as you were ushered into the great big beautiful tomorrow. Also of note was Gyro, maybe the first true living character initiative creation to roam around the parks, he was a charming little robot that would talk with guests and raise and lower his baseball hat (hey, it was the '80s after all).
The Robot Butler (Horizons)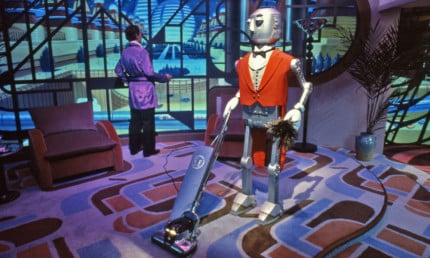 Horizons is a fan favorite EPCOT Center attraction for a number of reasons – its grand ambition, leisure pace, choose-your-own-adventure ending – but one of the more iconic elements of the now-shuttered attraction (it closed down in 1999 to make way for Mission: SPACE) was the robot butler. The robot butler was featured in the "Looking Back at Tomorrow" section of the attraction (as the name suggests, this was the retro-futuristic part of the ride) and was a silvery automaton, complete with human-like features, white gloves, a feather duster, a vacuum cleaner and, best of all, a tux and tails (but strangely, no pants). In the years since the ride's closure, the robot butler has been immortalized as a Vinylmation "Park Starz" figure and continues to be an undeniable fan favorite.
Push the Talking Trashcan (Disney Parks)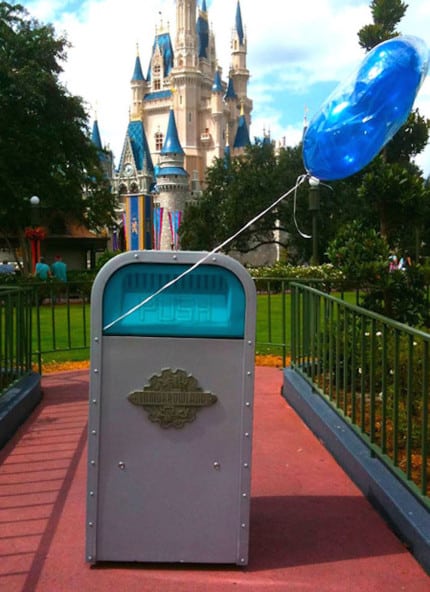 Sure, George Clooney made an appearance at the Tomorrowland after-party, but for our money the biggest celebrity to show up was Push the Talking Trash Can. Push first appeared in the Parks in February 1995 and was an early attempt at kind of interactive experience that would give way to the Living Character Initiative (the same technology that gave us Turtle Talk with Crush and Lucky the Dinosaur). Push is a talking trashcan who rolls around and interacts with guests, singing and chatting in a chirpy electronic voice. In February 2014 Push was officially retired, so if you need to scratch your anthropomorphic garbage receptacle itch, you can check out Pipa the Talking Recycling Can over at Disney's Animal Kingdom Park.
The Vision (Avengers: Age of Ultron)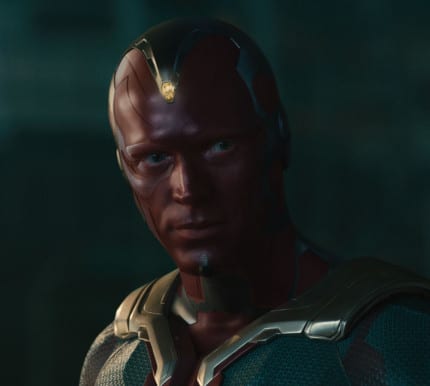 This summer's Avengers: Age of Ultron features our favorite Marvel heroes (among them: Iron Man, Black Widow, Scarlet Witch, Thor, Captain America and Hawkeye) facing off against Ultron, an evil robot with the velvety voice of James Spader and grand plans for global annihilation. But Ultron wasn't the only robot to make their debut in Age of Ultron. There was also The Vision, the physical embodiment of J.A.R.V.I.S., Tony Stark's sentient computer program (voiced and now performed by British actor Paul Bettany). The Vision has it all: he's got a godly poise and super cool abilities like being able to phase through Ultron's evil robot army (and pull them apart like they were taffy). His philosophical stance is also intriguing; when the other Avengers are trying to figure out if he is good or evil, he stands removed, saying on that he is on "the side of life." And we're on the side of Vision.
Norm (Phineas and Ferb)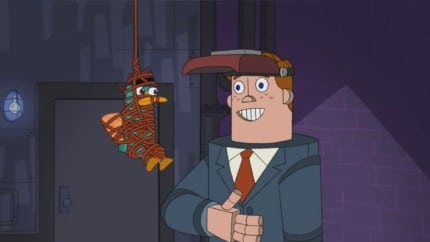 There are probably even more robots in Phineas and Ferb than there are in Tomorrowland, and our favorite (by a considerable margin) is Norm, a giant robot who looks like an average businessman and who assists Doofenshirtz on a variety of evil schemes. (He was originally created in a bid to take down Perry the Platypus, of course.) He's a single-minded brute in a suit and tie and he's still our favorite robot on the entire series (which is really saying something).
Which Disney robot is your favorite? Tell us in the comments!