From our friend, Erin Glover, Social Media Director, Disneyland Resort and posted on the Disney Parks Blog.
We recently shared that some exciting new magic is coming next month to Matterhorn Bobsleds at Disneyland park. In anticipation, I'd like to go a different direction with this installment of "The Magic of Disney Parks Storytelling" and tell you the story behind the inspiration for this classic attraction.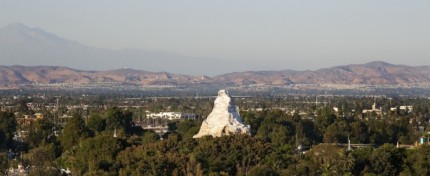 The Matterhorn Bobsleds were inspired by the 1959 live action Disney feature film, "Third Man on the Mountain," which tells the story of a young man who strives to scale the Matterhorn (called "the Citadel" in the film). During filming in Zermatt, Switzerland, Walt Disney became fascinated with the Matterhorn, and his thoughts turned to how he could incorporate this inspiration at Disneyland.
He asked his designers to think about transforming Holiday Hill (a small mound of dirt between Fantasyland and Tomorrowland) into Snow Hill, which would feature real snow. Time passed and ideas evolved, and the project grew in scope. Snow Hill became Snow Mountain, and by the time "Third Man on the Mountain" wrapped in 1958 the project had developed into Matterhorn Mountain.
The real Matterhorn in Switzerland stands 14,700 feet, while the 100th-scale replica at Disneyland reaches nearly 147 feet. Can you think of other mountains or natural wonders that have inspired attractions at Disney Parks around the world?