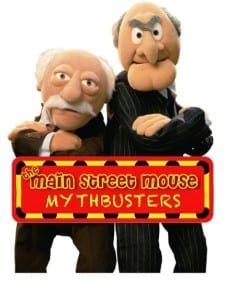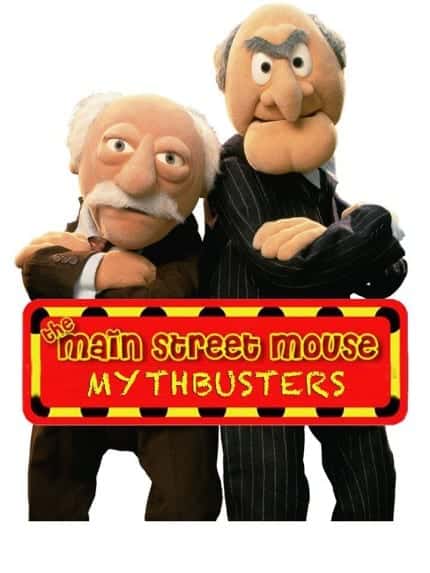 The goal of this blog series is to factually prove or disprove rumors, myths and misconceptions in the Disney-verse. Tonight on TMSM Mythbusters we are tackling two interesting myths.

Controlling Interest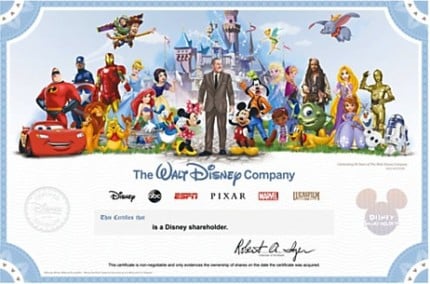 This weekend a Nation member posted the following interesting comment  "Did you know that Walt Disney family only own 26% of the Disney company?" Now I have to say I found this statement intriguing based on information I had seen when Disney bought Pixar and had to delve into it.  As of today there are 1,699,563,381 Shares Outstanding in the Disney Company which trades as DIS. Currently anyone can purchase Disney stock by visiting Disney's Investor/Shareholder site or through the stock trading company of their choice. Disney stock eliminated paper stock certificated and went to digital certificates only in late 2013. Stock holders that wish to have a paper Disney stock certificate to display can visit the Disney Store and purchase a "The Walt Disney Company Collectible Shareholder Certificate" after verifying that they do in fact own shares in the Disney company.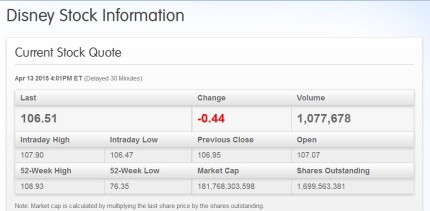 Information about Disney stock shows that originally Walt had a created a private held company that was originally part of WED (now WDI) called Retlaw Enterprises in 1953  for the heirs of his company to help fund the construction of Disneyland. Retlaw held the rights to Walt's name and likeness and the ownership the Disneyland Monorail and Railroad. "WDI charged a licensing fee to the Disney company for 5% to 10% of the income from all of Disney's merchandising deals." And in 1953 a shareholder of Walt Disney Productions stock took Walt and WED to court over the possible improper funneling of Disney Productions profits. In the 60's Retlaw held 10% interest in in 26 of Disney's life-action movies. In 1982 the Disney family "sold the naming rights and rail-based attractions to the Disney film studio for 818,461 shares of Disney stock then worth $42.6 million, none of which went to Retlaw. "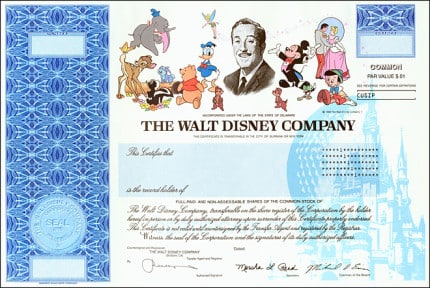 The construction of Disneyland also effected the amount of holdings the Disney family had. In a 2010 interview Roy P. Disney stated  that due to the need for money to build Disneyland in 1954, Roy and Walt used outside sources for funding like loans and stock issuance in the Disney company and that by 1960 "Walt and Roy owned about 20% of the company."  Fast forward to 2006 and Disney's purchasing of Pixar. At that time Apple CEO Steve Jobs owned just over half of Pixar's shares. When the deal was complete Disney issued 2.3 shares of Disney for each Pixar share.


(For up to date Major Share Holder Info Click Here)
When the deal was done Jobs became Disney's largest individual shareholder. Jobs (and later his wife after his passing) owned 7% of the companies shares, at that time ex-CEO Michael Eisner held 1.7%, and Roy E. Disney 1%. As of the 2010 interview mentioned earlier Roy P. Disney stated that combined the Disney family owns less than 3% of the Disney company's stock holdings. Roy's admittance to this information is really one of the only confirmations I can find in public records regarding the amount of Disney stock the family holds, and based on my belief he would have nothing to gain by diminishing the amount of stock owned by the family I feel it is safe to say that the myth that the Disney family owns 26% of the companies stock is in fact busted.
Walt Disney World DC?
The Disney Company realized back in the late 1970's that more parks meant more money and they started opening parks worldwide in 1983. What if though Disney parks were to expand in the United States giving us parks like Disneyland in California,  Walt Disney World in Florida, and Disney in Virginia to visit. Wow ok let's reread that. California, Florida, and VIRGINIA?  This Main Streeters is a Disney myth that I will confirm is in fact real, because the impressive details just give away the busted or confirmed status.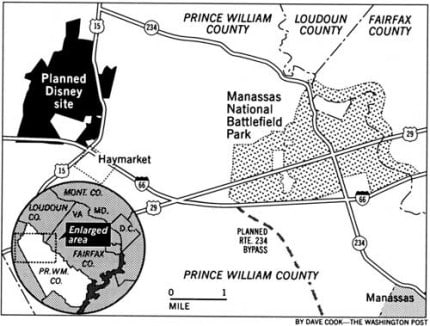 To the west of our Nation's Capital is Prince William County. This historic area is home to the American Civil War's Manassas battlefield. In 1993, about a year after "Euro Disney" opened the Disney Company actively started looking into expanding their park holdings on U.S. soil. Prior to this in the mid-1960's Disney had only ever looked into building one other park on American soil,  Walt Disney's Riverfront Square would have been in St. Louis but when that didn't work out Walt focused on Walt Disney World. Disney also looked into opening a ski resort in the 1960's but this never panned out either. So thirty years later in November of 1993 the Walt Disney Company surprised Northern Virginians with the announcement of its intention to build a historic theme park called Disney's America.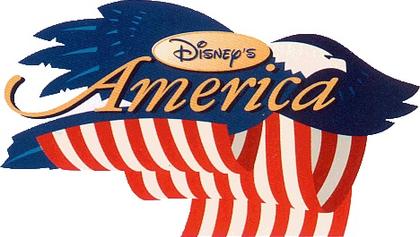 Very similar to the way Walt had acquired land in Florida for Walt Disney World, Disney had been secretly looking for land for a new theme park that would be far enough away from Disneyland and Walt Disney World that it wouldn't effect their visitor numbers, but also not so far out that no one would visit it.
They found this land in Haymarket, Virginia, about 3.5 miles from the Manassas battlefield. The thought was the park would become one of the destinations people would want to visit while visiting America's capital, but it would be just far enough away from Washington D.C. that there would actually be space to build a park. The park would be named Disney's America and it's theme would have been American history.
The park would have had 9 "lands":
"Native America" with a Native American village, interactive exhibits and a whitewater raft ride that would later becomes Grizzly River Run
"Civil War Fort" with a replica Civil War battlefield where re-enactments would have occurred, and a water area for a staging of the first battle of Ironclads the Monitor and Merrimac.
"Family Farm" which would have shown guests different types of industries related to growing and harvesting food.
"State Fair" an area dedicated to the 1930s. This area would have had Coney Island style rides and a show about baseball. One of this area's planned rides later became California Screamin'.
"We The People" a replica of Ellis Island which would have held music, dining and a live show.
"President's Square" would have been dedicated to democracy in America well as Walt Disney World's Hall of Presidents.
"Enterprise" would have been an area dedicated to the Industrial Revolution. Guests would have traveled through the 19th-century on a roller coaster.
"Victory Field" was intended to be an area where guests could experience the life of an American soldier during the World Wars. It was also going to have an air field and hangers exhibiting historical airplanes and a dueling inverted coaster called Dogfighter. Many of this area's planned ideas could be seen in Condor Flats prior to it's remodel.
"Crossroads USA" based on a Civil War era village would have been the park's "Main Street"
From the start the park was impeded in controversy.  Disney had the support of outgoing Governor Wilder as well as the support of incoming Gov. Allen and the Virginia Commission on Population Growth and Development. The county's planning board had agreed to rezone the area for the project and the transportation panel had approved money for road improvement.
What Disney lacked though was the support of the people. Many thought the park would threaten many State and National Parks with it's traffic levels  and "in response to the threat to these national treasures, a large, articulate coalition defeated one of the country's richest corporations and its boosters in Virginia's Statehouse and Legislature." Finally in fall 1994 Disney decided that the outcry by the people in Northern Virginia would "mar Disney's image" and they decided to table Disney's America. The land Disney would have used is now the Dominion Valley Country Club and Estates. The area opened in roughly early 2011 with houses starting at $750k.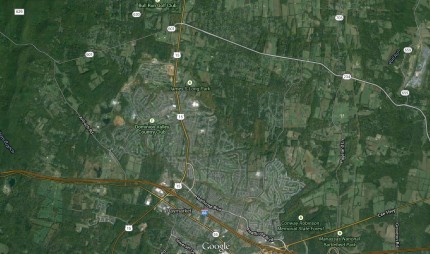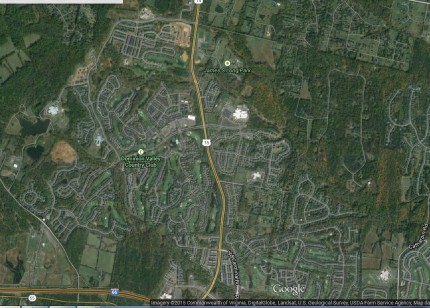 So as mentioned at the start of this myth, the idea of Walt Disney Northern Virginia theme park is in fact a confirmed Disney myth, and with it being confirmed my little heart was shattered because at that time I was a sophomore in High School just outside of Norfolk, VA and I knew that I stood a better chance of going to Northern Virginia to visit a Disney park than I did Florida or California. Thankfully when I became an adult I was able to not only visit Northern Virginia but also Disneyland and Walt Disney World!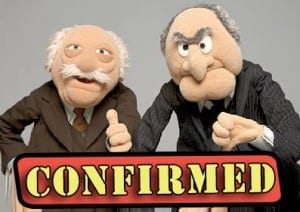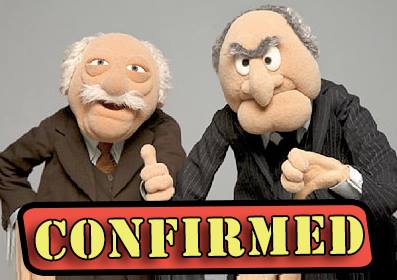 Research and Image Sources: finance.yahoo.com; thewaltdisneycompany.com/investors/shareholder-information; nytimes.com/1994/09/30/opinion/disney-retreats-at-bull-run.html; cr.nps.gov/history/online_books/mana/adhi11b.htm; google maps