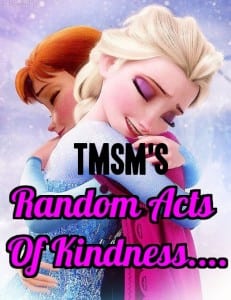 It's that time again! You know, the day where we recognize someone for their Random Act of Kindness…. Disney Style! Today's story comes from a Member who wishes to remain unnamed, but wanted to share her experience with some special Cast Members!
We had the opportunity to visit WDW in 2012 for the first time ever for my husband and I as well as my 3 children. It was such a magical experience that we booked our next trip before we ever left. The moment your child sees her favorite princess is a memory you will never forget. We did so much stuff in the week we were there from as many character meals to meet n greets as we could yet there was still so much more we could do.

So we just went back in September of 2013. When booking our meals I decided to do a few of the same that we had previously done, but did some new ones as well. Our first night there we went to Dinner at the 1900s Park Fare. I really thought my kids would find that fun. Which they did. Cinderellas sisters had my kids laughing so hard. When we were just about done my daughter just broke down and cried. She was just so upset, that our amazing server that we had went way above and beyond to make her happy. He came over and talked to my daughter to see how he could fix the problem. Well, she was upset because Princess Ariel was not there. He then went to the character coordinator to see what they could do. She then tried to get an Ariel to come make a special appearance for my daughter. They were unable to make that happen due to the time of night it was, so they got Cinderella and Prince Charming to come over for a special visit together to my daughter and they had all sorts of fun stuff to talk to my daughter about Princess Ariel. It made her night to hear the stuff they had to say. Then they went as far as getting my daughter a special autographed picture by all the characters at the restaurant and sent special treats with her.
In our eyes that server went above and beyond the simple task of taking care of our drinks at the table and making sure we were ok. And the fact that they tried to bring an Ariel over for her was just nice. It would have been even more amazing if they would have been able to do that but we did not expect any of what was done. So that made our trip a little more special to know they will just go out of their was to please anyone! They really do not like to see a child unhappy in the Happiest Place On Earth!
If there is some way to get that server a recognition for his great service I would love to know! He deserves to be recognized for his great service and going above and beyond!!

Thanks for sharing your story with us! If you have a Disney Random Act of Kindness, please let us know, and you could be featured article. Until next week, be good to one another, you never know who you could make smile with just one small act of kindness! ~M