Pirates of the Caribbean 5, Plot Details Released!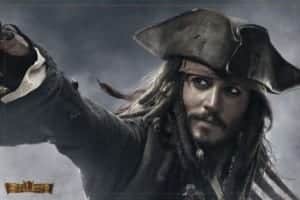 Fans of the Pirates of the Caribbean franchise have been patiently waiting for some details on the next installment, "Dead Men Tell No Tales." The movie start date was pushed back, but it's set to begin filming finally next month in Australia. Although the movie isn't set to be released until Summer of 2017, we're getting some details about the project at last, courtesy of screenrant.com. Here's what they had to say:
Johnny Depp is, of course, reprising as pirate Jack Sparrow, while Orlando Bloom says he's been approached to return to the Pirates franchise for Dead Men Tell No Tales, as part of a story that would revolve around his character, Will Turner, and Will's son. Actor Brenton Thwaites (The Giver), who is playing the movie's young male lead (who may or may not be Will's son), has now shed a little more light on that matter.
Thwaites recently confirmed to The Mirror that he is, as previously reported, part of the Dead Men Tell No Tales cast and will be headed to Australia to begin working on the project in a few weeks. He admitted to not knowing a whole lot about the movie's story (saying "they're quite tight about that stuff"), but was still able to provide the following outline:
"It's about a young man who wants to reconnect with his father, Davy Jones. There's a curse that prevents him from doing that. I think it's about how he goes around that and tries to fix it and he has to save his dad. I'm looking forward to it. It'll be a lot of fun!"

Meanwhile, Geoffrey Rush is expected to reprise as Hector Barbossa in Dead Men Tell No Tales, while the film's antagonist is being played by Oscar-winner Javier Bardem. Deadline is reporting that Kaya Scodelario – who costarred in The Maze Runner last year and has recently been filming the sequel, Scorch Trials – has entered talks to play the female lead in this Pirates adventure, having previously been on a shortlist of names in consideration for the role. It's not clear yet who Scodelario would be playing in the film, nor how the character will fit into the story outlined by Thwaites.
Bloom's Will Turner took up the title of Davy Jones (and captain of the ship "The Flying Dutchman"), back in Pirates of the Caribbean: At World's End, so it sounds as though the Dead Men Tell No Tales script by Jeff Nathanson (Rush Hour 2 & 3, Tower Heist) will indeed pick back up with that plot thread, as Bloom had indicated. Where directors Joachim Rønning and Espen Sandberg (Kon-Tiki) take the story from there, of course, remains to be seen.
The most recent Pirates film, On Stranger Tides, was a huge commercial success, yet also wound up becoming the worst-received installment overall to date. Part of the reason for this may've been because it abandons much of the story from the first three movies, for a one-off about Sparrow attempting to find the Fountain of Youth. Which is to say, seeing as Dead Men Tell No Tales will take the opposite approach, it could wind up offering some course correction for this franchise.
Pirates of the Caribbean: Dead Men Tell No Tales opens in U.S. theaters on July 7th, 2017.
Stay tuned to The Main Street Mouse for more details as we hear them!
Source: Deadline, The Mirror