Walt Disney World's "Memory Maker- Advance Purchase" Price Raised
This morning Disney's Photopass division raised Walt Disney World's  " Memory Maker- Advance Purchase" price to $169 from $149. The "Memory Maker- Starts Immediately" option which tends to be more of a in park purchase is still priced at $199.  When updating the pricing for Memory Maker on it's website, Disney also modified the wording on the website, doing a much better job of clarifying the post purchase 3 day waiting period for those purchasing the "Memory Maker – Advance Purchase" package. There is now a more easy to understand disclaimer stating  "If Memory Maker is purchased at the advance purchase price, any photos taken within 3 days from the date Memory Maker is purchased will not be included and must be purchased separately."at the bottom of the Memory Maker purchase page, and each options purchase info has much easier to understand wording. This wording change will hopefully clarify the differences between the two options to guests new to Memory Maker.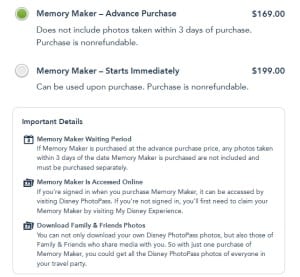 Originally released in late 2013, Memory Maker allows guests to download their park photos taken by Photopass Photographers, ride photos, and ride videos  as well as share them with friends online through social networking channel after  Memory Maker has been purchased. Memory Maker also allows friends and family members to share their images through My Disney Experience and PhotoPass.
Also available for an additional fee is the "Memory Maker Archive Disc". Available to those who have purchased a Memory Maker package this additional $29.95 disc combines all of the guests Memory Maker images and the 400 photo Walt Disney World Gallery Disc into one package, and has become a favorite option to those who are not familiar or comfortable with the individual technology knowledge needed for the downloadable option of Memory Maker.