Disney World ~ Seeing the Magic through a First-Timers Eyes!
Last weekend, we had our big TMSM Meet Up at Epcot, and I was lucky enough to have two friends from home in Michigan fly in for the event. I was so excited to have family here, it makes it easier when it comes to being homesick to have some familiar faces around. Now, these girls, Paula and Michelle, aren't just friends, they are my extended family, sisters that I never had, so I was a happy girl. One little extra aspect of my excitement, was that our friend Michelle had NEVER been to Disney World. She's always wanted to go, but never had the chance. For me, this was incentive to make sure she had a magical first experience, and I couldn't wait to show her the "world" in all it's glory!
Paula was in town on Thursday, and Friday we all went to the airport to pick up Michelle. She started crying from the time she got off the plane, maybe even before. Paula and I were determined to make sure Michelle got the most out of this trip, even my boys were excited. We took the group to City Walk that evening for a vacation celebration at Margaritaville. Michelle was excited to be there, and I kept thinking "just you wait, you haven't seen Disney yet" the entire time. Yes, City Walk is awesome, tons of fun, but the "magic" was still coming the next day.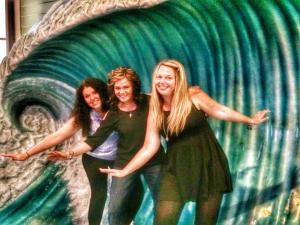 Saturday morning was finally here, and there was a lot of buzzing excitement in our house. Between me being excited and nervous for the meet up, and everyone else anticipating getting to Epcot, it was hectic fun. The girls surprised me with matching TMSM Shirts, we got ready and headed out. We parked at Disney's Boardwalk because we were meeting other friends there, Corey & Autumn and their spouses. Michelle's eyes lit up when she saw the sprawling Boardwalk. Tears started, but I kept telling her, just wait, it gets better! We headed in to Epcot, and everyone went into Tour Guide mode, telling Michelle what all the countries were about and showed her around. The meet up began, and before we knew it, it was time for Michelle's first Disney ride, Soarin'. My friend Lorraine who is a CM was with us, and she suggested that Michelle get placed in the first row, so she could get the best experience on Soarin, and she absolutely did. We sat in the middle row, and throughout the whole ride we heard Michelle hooting and hollering, and we were laughing and so excited for her. She got off the ride and was in tears, just overwhelmed. But wait….. there's more!
After Soarin' we headed over to Epcot's Character Spot. We pulled some strings thanks to some great CM's and got a private meet and greet for just our group with the characters. I grabbed Michelle's arm and asked her "Do you want to meet Mickey Mouse?" and she lit up. Talk about excitement! We stood outside and waited for the CM's to let us in, and I think we all were building up anticipation because we knew what was coming. The group pretty much made an unspoken decision and let Michelle go in first. Ugh…. I'm tearing up as I write this. Michelle went in and saw Mickey and just lost it, happy tears were flowing and I think we all were crying too. Mickey was so sweet to her, gave her extra time and extra hugs. I'm telling you, seeing this happen brings back so many memories, and really gives us that reminder of what Disney magic is all about and why it means to much to people. We took a group photo, Minnie and Goofy jumped in too, and that magical memory was captured not only in a photo but in our hearts as well. We closed out the day watching Illuminations with the satisfaction that the day was a complete success. But I was still building up anticipation because I knew that Michelle was going to the Magic Kingdom the next day, and couldn't wait to show her!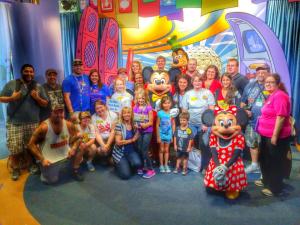 On Sunday we were exhausted from the meet up, but were really looking forward to going to Mickey's Not So Scary Halloween Party that afternoon. Now remember, Michelle has never seen Cinderella Castle at this point. Paula and I were telling her how much she's going to love it, and couldn't wait to get her there. While on the Monorail, we were purposely blocking her view of the Castle because we wanted her to wait and see the full view from Main Street. After going inside the gates, there we were, finally seeing the Castle at the end of Main Street USA. Michelle cried…. we all did. Getting her to the end of the street in front of the Castle was the best, she couldn't speak she was so overwhelmed. Just then, the Castle show started at the perfect time.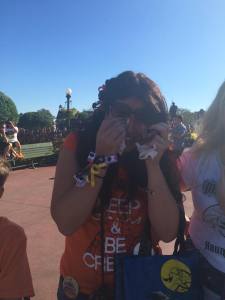 The Halloween Party was an amazing time, we all really enjoyed ourselves. I was on a mission to make sure the girls saw everything that we could fit in that night. We got on the Mine Train, Space Mountain, Pirates of the Caribbean, The Haunted Mansion, and Little Mermaid, plus fit in the Character Dance Parties, Boo to You Parade, Hallowishes (with my friends Andy & Lenise) AND Trick or Treating! Talk about an exhausting time! It was worth it though, and I'm so glad we got to go and have so much fun.
All in all, the weekend visit was a complete success and an amazing time. I know for me, I got choked up many times, if it wasn't from the awesome people at the meet up, it was from seeing my friend Michelle get to enjoy Disney for the first time. I asked her what she thought, and she said words couldn't describe how she felt, and that seeing Disney on TV doesn't do it justice. People who have never been to Disney sometimes don't fully understand the appeal of it all, but once you go, you're hooked and memories are made that will last a lifetime. Seeing adults become a kid again right in front of your eyes is an experience that you won't soon forget, same thing happened when my Dad was here in September. It's a blessing to get to do what I do, and have experiences like these that will stick with me always. I'm so thankful for my family and friends, and my heart is full of joy that my girls had such a magical time. Can't wait to do it again! ~M
PS~ A special thank you to my Disney/Florida/TMSM Family for making my Michigan Family feel so welcomed and loved. I heart you all!