Villains Unleashed Guest List
On August 23rd, the Villains Unleashed events makes it's way to Disney's Hollywood Studios.  50 Villains will be running and causing mischief at the Studios for this after hours event.  This event is a separately ticketed event and you can purchase them HERE.
Dance the night away with the Hades and his band of underworld party animals. Groove to the devilish ditties of house band Bernie Briquette and Brimstone, along with the twisted turntables of DJ Igg Nite and the Underworld Dancers. Get ready for a night full of hot tracks, because nobody turns up the heat better than Hades!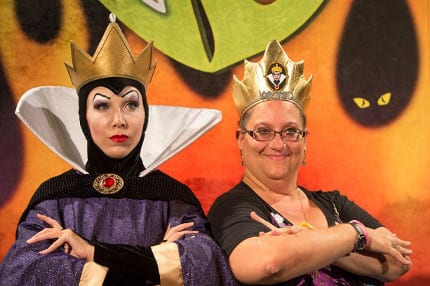 As the clock strikes the witching hour, the famous fiends unite at Hades' Hangout for a fireworks spectacular! Feel the evil energy swell as the collected villains combine their powers and assemble on Hades' Hangout. With an eruption of evil energy, the night sky is set ablaze with dazzling colors in the Villainy in the Skies fireworks spectacular. Even a villain can have a happy ending, after all.
Here is just a small list of the 50 villains that will be on hand for the event:
Hades
Meg
Pain
Panic
Anastasia
Drizella
Lady Tremaine
J. Worthington Foulfellow
Gideon
Big Bad Wolf
Cruella De Vil
Captain Hook
Mr. Smee
Bowler Hat Guy
Queen of Hearts
Gaston
Jafar
Darth Vader
Darth Maul
Boba Fett
Asajj Ventress
Emperor Palpatine
Stormtrooper
Zam Wessell
Jango Fett