John Rhys-Davies Returns to Indiana Jones Adventure at Disneyland Park
From George Savvas, Public Relations Director, Disneyland Resort
You never know who you might encounter along the perilous pathways through the remote jungles of India's lost delta while searching for the mysterious Temple of the Forbidden Eye. John Rhys-Davies, who of course portrayed Indy's faithful friend, Sallah, in two Indiana Jones films, visited the Disneyland Resort recently, and together with his family and friends, we made our way to Indiana Jones Adventure.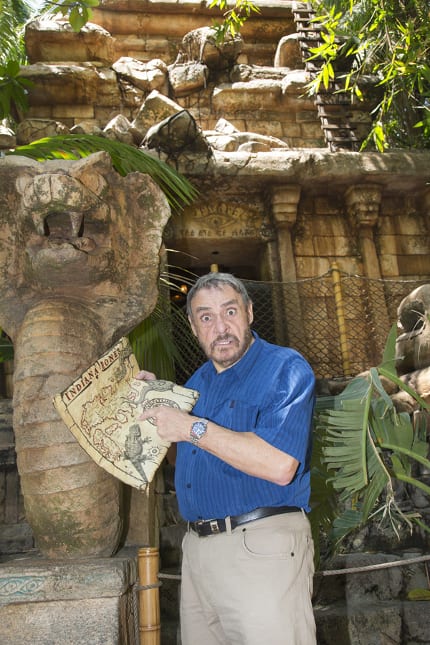 "Not to worry," John said. "Sallah has the map!"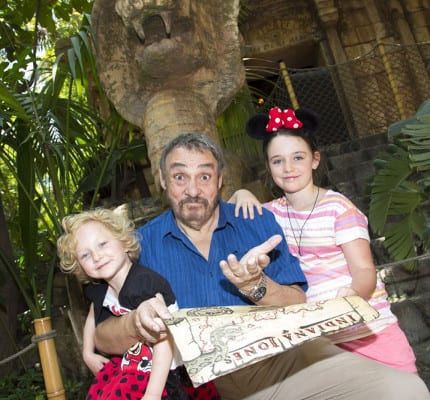 During our expedition, John told me that despite his appearance inside the queue of our attraction for nearly 20 years, this would actually be the very first time he would ride it and that he was thrilled to be able to bring along his eight-year-old daughter, Maia (pictured here with a family friend) for her very first Disneyland visit. "The best way to see Disneyland, actually, is with children and through a child's eyes," John said. "It's a joy to come here with my daughter, who's come all the way from New Zealand."
After riding the attraction – not once, but twice – John said, "It's really wonderful, isn't it? It's a great rollicking adventure. It's just the right side of scary." Maia added, "It was absolutely petrifying! I quite liked the boulder where it drops down. Oh, and the snake!"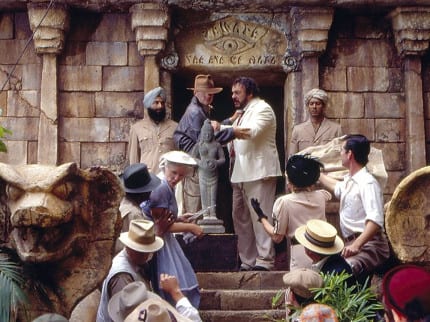 As I mentioned, John appears as Sallah in the queue of Indiana Jones Adventure, so we set out on our own photo archive adventure. Our team of "top … men" was able to recover this rare artifact – a picture taken while filming the newsreel footage shown deep within the temple as guests prepare to board their transports.
Co-Owner / Webmaster / Business Relations / PT Writer
As co-owner and co-creator of The Main Street Mouse. Working in a technical support position for 18 years, it was time for a change. As the Webmaster and Project Planner, I spend most of my time researching everything from the latest Disney News, technology advances and of course keeping up on all the Marvel news that comes out. I never considered myself a writer but I've come to like blogging and sharing news with all. I feel blessed everyday that I get to spend my days working with my best friend and love of my life while we continue to grow and expand what started as a hobby all those years ago.