Disney Movies that Scream Childhood by Arielle Boardman
Written by Arielle Boardman
Since I can remember, I have been enamored by Disney movies. One of my favorite memories of when I would stay home sick from school and my mom will bring the TV into my room (a TV in my room?!! AMAZING!!) and I would watch an array of Disney movies. Of course we had the classics like The Little Mermaid or Lion King, but today I wanted to share some of the "forgotten" Disney movies that filled up my childhood.
1.) Homeward Bound
I can just hear the inspirational music now. In this heartwarming tale, 3 furry friends go off for the adventure of a lifetime to look for their family.  This movie made me laugh, and cry (I still can't watch that scene with Sassy and the waterfall). I used to watch it with my trusty old sidekick Ebony, my childhood dog. I always wondered if it was because there were dogs in the movie, or if she was planning her own adventure. I still have this movie on VHS and every once in a while I like to pop it in the good ol' VCR and relive those awesome childhood memories.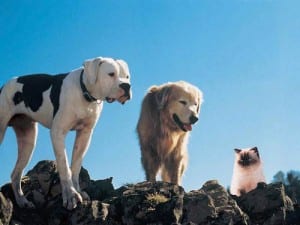 2.) Jungle to Jungle
Did anyone else have a huge crush on Mimi-Siku? I totally did.. although the fish eating scene totally caused some trauma for me. This movie made for an awesome movie night addition. Tim Allen stars as a big city slicker who brings home his newly discovered son…who grew up in the Jungle. Things get a little wacky when Mimi-Siku has to get used to city living…and learn to not eat the family fish..or cat.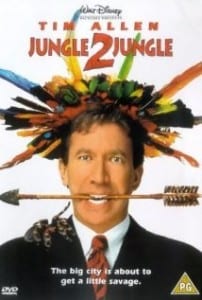 3.) The Parent Trap
Ah…the good ol days of Summer Camp (I actually never went to summer camp so I actually wouldn't know). Remember the great times you had: sleeping under the stars, making new friends, discovering that you have a long lost twin? Good times, gooood times (not that I would know…).
I always wanted to be BFF's with Hallie and Alex, learn their secret handshake, help destroy the wedding of their father and his awful girlfriend. And was anyone else totally floored when you found out that it was only ONE actress who played the twins? I thought 1998 was definitely going to see the next Mary-Kate and Ashley. The Parent Trap was always a fun 90's Disney movie, although I get a little sad watching the late Natasha Richardson play Elizabeth, Hallie and Alex's mother. You can even get more nostalgic and watch the original version made in 1961 which starred Hayley Mills as the twins.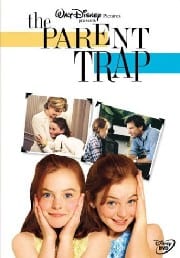 4.) Toothless
This is seriously one of my all-time favorites! I was a huge fan of Kristie Alley growing up, I loved her on Cheers and I absolutely adored her in this movie. Toothless was the story of a dentist who sent to limbo to serve as a tooth fairy. I always wanted the dress she had (still kind of do…I always imagined myself grocery shopping in that). It also stars that adorable kid from Sleepless in Seattle and who also voiced TJ in the Disney cartoon series, Recess.
5.) Cinderella
I'm not talking about the animated classic (which, who doesn't love?!), I'm talking about the Rodger and Hammerstein's version which was re-told by Disney starring Brandy, Whitney Houston, Victor Garber, Whoopi Goldberg, Jason Alexander and Bernadette Peters. Whew! That's a lot of legendary actors in one film! Not only did this movie introduce us to the Broadway version, but it introduced us to some of the best music! When I was younger, I always wanted Whitney Houston to be my fairy Godmother, except she wouldn't have to send me to the ball, she would just have to sing "I'm Every Woman" on Karaoke night with me…we recorded this movie on our VCR when it was shown on ABC's Wonderful World of Disney. I love watching it, not only because I love the movie, but we also recorded a bunch of awesome 90's commercials…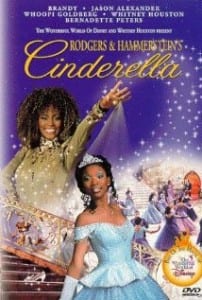 These are the movies that take my back to my childhood and I STILL enjoy watching them. I can't wait until I can share these wonderful movies with my kids. What are some movies that remind you of your childhood? Share with me in the comments!
About Arielle:
Arielle is the owner and blogger of Plenty of Sunshine, she loves all things Disney and she left her heart in Disneyland. She resides in Northern Utah with her Prince Charming, Brody, her noble steed, a corgi named Buttons and her trusty sidekick, a cat named Taffy.
Michele Atwood is the Owner/Editor of The Main Street Mouse and it's subsidiaries and author of the book "Moving to Main Street U.S.A." Michele also contributes Disney news to the Joe Kelley Morning Show on 96.5 WDBO in Orlando. She and her family made the move from Michigan to the Orlando area to pursue their Disney dreams. Michele is a life long Disney fan, and has two sons who have followed suit, each going on their first Disney trip before their first birthday's. Part of the goal Michele has for The Main Street Mouse is not only to keep members informed, but to create somewhat of a Disney Family by relating to others through personal experiences and opinions. Also, Michele is making it a priority to share stories of inspiration and hope to other Disney Fans in an effort to share the Magic and hopefully make a difference in the lives of others.