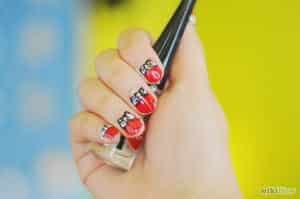 These days, nail art is all the rage, especially for us Disney Fans who want to add some extra magic to our look when going to the Parks or even just being out and about. I can across these easy instructions to create a Minnie inspired look to your nails! Keep reading to find out how to do it!
Paint red polish halfway down your clean nails. Allow the nails to dry before proceeding to the next step.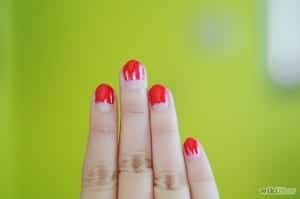 Paint a ribbon bow shape at the base of the red polish on each nail. Use white acrylic paint. It's basically two triangle shapes side-by-side, joined at their pointy ends, and hiding the join under a circle.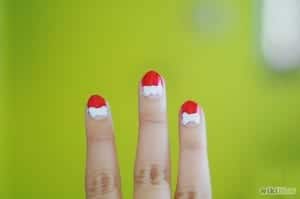 Outline the bow. Use black acrylic paint to infill the detail that will bring the bow to life. Take it slowly and carefully, and use fine strokes to help make the ribbon look real.
Paint around the white bow to create a black edge.
Paint around the edges of the white circle (in the middle of each bow).
Paint "crease" lines on each bow (see the image). These lines give the final effect of a real bow.
Apply a top coat on each nail. Once the bows have completely dried, preserve the artwork with a top coat. Allow to dry completely before doing anything with your hands.
You can add glitter, polka dots, or really anything extra to add your own personal touch! Good luck and have fun!!