There is some new merchandise coming to Disneyland Resort for the Rock Your Disney Side, 24 hour even.  Michelle Harker, Manager, Merchandise Marketing & Communications, Disneyland Resort, put this blog out to show the merchandise.
Have you figured out how you're going to Rock Your Disney Side for 24 hours? I know that my friend and fellow Disney Parks Blog author Steven Miller gave you a look at the Rock Your Disney Side 24-hour event merchandise earlier today, which may help you decide. However, I have a few more tips for those of you planning to visit Disneyland Resort, so let's get ready to party!
My costume options for the party might be a bit more subtle than Steven's, but I think you would agree that I found the perfect fit.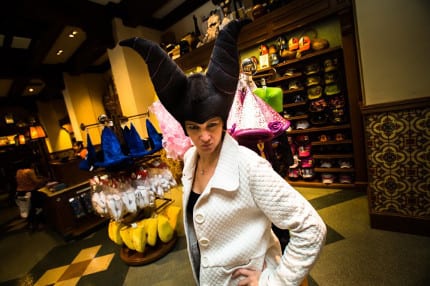 Joining us at Disneyland Resort? Here are a few more things you won't want to miss!
If you are looking to take something home to remember this rockin' party, be sure to check out the special artist sketches debuting May 23 at the Disneyana Shop in Disneyland park, Off the Page in Disney California Adventure park and WonderGround Gallery in the Downtown Disney District. The two new sketches feature some of our most beloved Disney heroes and villains, like Scar and Simba & Maleficent and Briar Rose. Which one did I choose? I guess you could say, I kept with the theme.
Special Tip: Our artists will be on hand to personalize the sketch for you.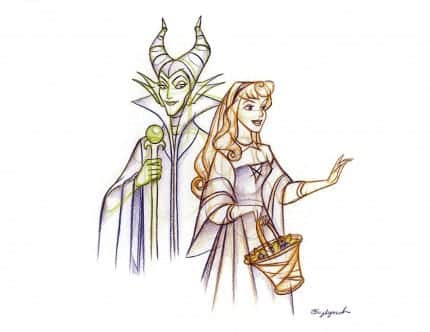 Finally, a couple of wickedly cool treats will surely cast a spell on your taste buds. Created by our team of candy makers, you will find a Maleficent-inspired apple, krispy treat, cake pop and of course the cupcake Steven mentioned earlier. How'd they do it? Magic of course! I will tell you that the apple is very tempting, but I can only tease you with that for now. Be sure to keep an eye out for these spellbinding sweets, beginning May 23. Where can you find them? Try Candy Palace in Disneyland park, Trolley Treats in Disney California Adventure park orMarceline's Confectionery in the Downtown Disney District.
I can't wait to see how you Rock Your Disney Side. Steven – I say why stop at one costume? I'm sure the Disney fans will agree with me that we are all anxious to see what you choose.
I'm ready to rock my Disney Side. Are you?