Friend of TMSM Steven Miller, Merchandise Communications Manager for Disney, put out a blog and some photos today showcasing the Darth Mall that will be at Hollywood Studio's for Star Wars Weekends 2014.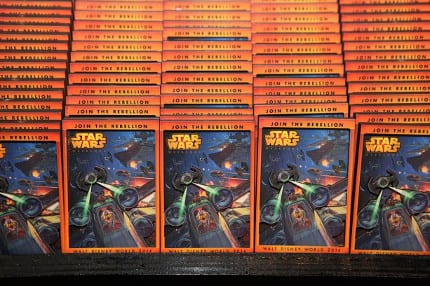 Star Wars Weekends 2014 returns to Disney's Hollywood Studios at Walt Disney World Resort starting May 16. You may recall I shared a first look at some merchandise created especially for this event along with details about the fan-favorite Star Wars – D-Tech Me Experience. This year, these items and more will be found in Darth's Mall, the out-of-this-world merchandise shop located in Soundstage 1 between Studio Backlot Tour and Toy Story Midway Mania. I recently visited the location as the merchandise team was putting on the finishing touches. Here are a few images of some of my favorite things I found.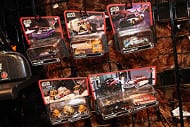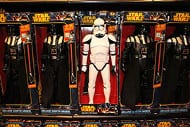 Toys have been an important part of Star Wars ever since Star Wars: Episode IV A New Hope debuted in theaters in 1977. I was happy to see several new toys not previously discussed including a new wave of Disney-Pixar's Cars as Star Wars characters and a giant clone trooper that is unique to Disney Parks.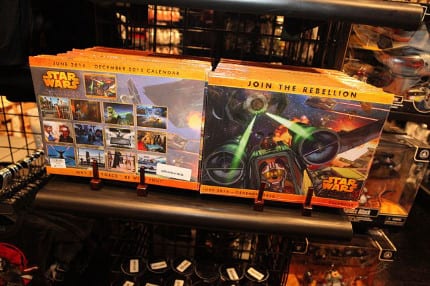 Other favorite items include a calendar that contains marketing artwork for Star Wars Weekends, light-up glasses and reusable tote bags. There will also be several new apparel items including items from Ashley Eckstein's incredible Her Universe line. I love the dress that reminded me of bed sheets and curtains I once had as a child!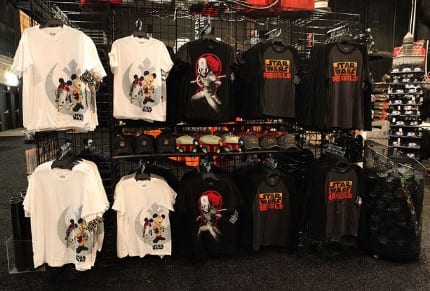 Speaking of apparel, we will be offering select Star Wars Rebels shirts on our Disney Parks online store from May 16-22. These will be the same shirts offered at Darth's Mall, just in case you aren't able to attend the event this year. Visit http://www.DisneyStore.com/ParkEvents to place an order.
I hope to see you at Star Wars Weekends!