Shopping at Walt Disney World…. These are a few of my favorite things!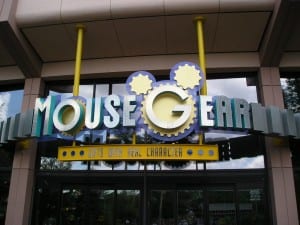 Part of my Walt Disney World experience must always include shopping! Yes, I love the sights, the rides, the characters, the food….. but shopping…. oh my! There's just something about the stores on Disney Property that make me forget my budget and want to go crazy. I have to remind myself that once I get home, I will feel the effects of going souvenir happy, so caution is advised. Disney makes it so hard though, don't they? Where else can you justify paying almost $40 for a t-shirt, or $75 for a sweatshirt jacket? Disney…. but not at home, no way! At least for me anyhow. So, being the avid shopper that I am, I thought I'd share some of my favorite WDW stores with you! Here's my list!
Mouse Gear ~ Epcot
Oh boy. Just writing the name "Mouse Gear" brings a smile to my face. Sigh… I just love that store. I think Mouse Gear at Epcot is one of the best stores on Disney Property. Why? Well, they have a huge variety of merchandise for just about every occasion you can think of. They have a whole section of Epcot/World Showcase themed items, with the countries represented in Mickey heads, etc. Those items can't be found anyplace else, not even Downtown Disney, so if you see something you like there, it's best to grab it. Other than the Epcot themed souvenirs, you can find something for just about anyone on your souvenir buying list. Mouse Gear offers items for the kitchen, clothes, jewelry, stuffed animals, toys, candy, pet souvenirs and even stickers and decorations for your car. If you've never been to Mouse Gear, I highly recommend it, it's just awesome. Mouse Gear is located toward Test Track and Mission Space, across from the Electric Umbrella.
World of Disney ~ Downtown Disney
I think every Disney go-er knows of the World of Disney store in Downtown Disney Marketplace. It's like Mouse Gear on steroids! It's the largest Disney store around, and they have the place sectioned off so you don't get lost or forget where you already looked. Each section has a theme….. the middle has the current year's Disney themed items, like mugs, hats, shirts, etc. As you branch out, you will find an area for each member of your family, and then some. There's a spot for boys, girls, women, men, scrapbooking, collectables, kitchen items, jewelry, etc. You name it, it's there! I love to hit World of Disney just ONE more time before leaving our vacation. It's a great last stop, just in case there was something I missed or if there was someone I forgot to buy for. It's dangerous in there, I warn you, but so worth the stop, or multiple stops in my case!
Basin ~ Downtown Disney
If you're shopping at the World of Disney store in DTD, they I'm sure you're familiar with Basin, as it is right next door. You probably can smell Basin before you see it! Basin carries a huge variety of bath products that are amazing to say the least. They have bath bombs, cut soaps, bath salts, shampoo bars, body butter, and massage bars, among other things. The prices are pretty reasonable too, which helps. I always stock up on my bath bombs every time I visit Basin, because I know it will be awhile before I get them again. You can order from Basin online, but it's not the same as the hands on experience, and sampling the products yourself. If you try the products at Basin, you'll be hooked, they're wonderful!
Island Mercantile ~ Animal Kingdom
If you're a sucker for animal prints, then shopping at the Island Mercantile at Animal Kingdom is the place for you. In all fairness, any store at Animal Kingdom is pretty good, but I digress. I love the animal print themed items, like shirts, towels, picture frames, etc. Just like with the World Showcase specialty items at Mouse Gear, Island Mercantile has that same type of thing, just with animal printed flair. I go through different phases, and choose one item to collect from each park, lately it's been beach towels. I love the one I got at Animal Kingdom, it's just black with a huge tiger printed Mickey head, and you can only find it AT Animal Kingdom. It's fun to find items that are specially made for each park, it's like a reminder of where you were, a mental souvenir if you will. Island Mercantile is a great place to shop!
Villains in Vogue ~ Hollywood Studios
Villains are usually a huge hit, but even more so now with the upcoming "Maleficent" film due out next month. If you're a fan of the "bad guys" throughout Disney history, then Villains in Vogue just might be a hot spot for you! Villains in Vogue has a variety of Disney villain themed merchandise, like mugs, shirts, treats, and various souvenirs. It's not often that you find a complete villain section while shopping at WDW, but this store has just that, Villains! No need to look further!
While writing this blog, it was hard to narrow down ALL the stores that I love on Disney property, there are too many. Maybe I will do a part two, or make it a series, being that there is just so many places in WDW that are fabulous to shop at. Until then, I hope this gives you an idea of where to go, or at least made you remember the places on vacation that you like to shop at too. Happy Shopping Everyone!
Michele Atwood is the Owner/Editor of The Main Street Mouse and it's subsidiaries and author of the book "Moving to Main Street U.S.A." Michele also contributes Disney news to the Joe Kelley Morning Show on 96.5 WDBO in Orlando. She and her family made the move from Michigan to the Orlando area to pursue their Disney dreams. Michele is a life long Disney fan, and has two sons who have followed suit, each going on their first Disney trip before their first birthday's. Part of the goal Michele has for The Main Street Mouse is not only to keep members informed, but to create somewhat of a Disney Family by relating to others through personal experiences and opinions. Also, Michele is making it a priority to share stories of inspiration and hope to other Disney Fans in an effort to share the Magic and hopefully make a difference in the lives of others.