Hollywood Studios 25th Anniversary May 1st
May 1st Disney and fans everywhere will be celebrating 25 years of Disney's Hollywood Studios.  One of my favorite attractions at Hollywood Studios isn't the big coaster or the elevator drop, it's a much tamer ride that is just fun because every time you ride it you will probably see something new.  I'm talking about The Great Movie Ride.  The attraction sits directly behind Mickey's Sorcerer Hat and the building looks like Hollywood's Chinese Theatre.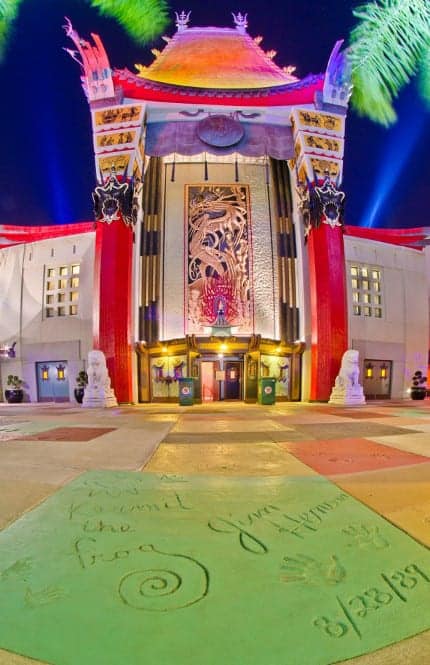 There are so many great scenes on this attraction that takes you through Hollywood's history.  From being right in the film, Alien to watching all the Munchkins appear and sing.  To me, the best scenes are the gangster scene with James Cagney and the old west area where you see Clint Eastwood and John Wayne.  During these scenes you have to be careful as the ride car just may be hijacked.  You ride through and eventually encounter the Raiders of the Lost Ark scene and it's surrounded with snakes, why does it have to be snakes?



My all time favorite part of the ride though isn't one of the scenes, but rather the end.  You pull into a room, always reminds me of a drive in.  All of a sudden the projectors role and you see some of the greatest scenes in film on the big screen.  Some of these scenes people have never had the chance to see on a large screen. I find myself naming each movie as they come across the screen and reciting the iconic movie lines.
Happy Anniversary to Hollywood Studios and The Great Movie Ride
Co-Owner / Webmaster / Business Relations / PT Writer
As co-owner and co-creator of The Main Street Mouse. Working in a technical support position for 18 years, it was time for a change. As the Webmaster and Project Planner, I spend most of my time researching everything from the latest Disney News, technology advances and of course keeping up on all the Marvel news that comes out. I never considered myself a writer but I've come to like blogging and sharing news with all. I feel blessed everyday that I get to spend my days working with my best friend and love of my life while we continue to grow and expand what started as a hobby all those years ago.