Here is a story about some of the dining available at Aulani, and how they use some local ingredients to come up with their signature dishes.  This blog was originally posted by Pam Brandon, Disney Parks Food Writer.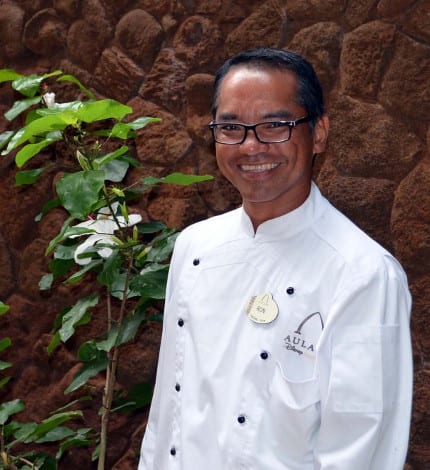 "We're using native mamaki tea for the panna cotta, and lavender with tart kalamansi (a citrus fruit also known as calamondin) for the semifreddo," says Chef Ron. The fragrant lavender comes from Ali'i Kula lavender farms in Maui, and the kitchen also is sourcing local honeycomb for the semifreddo, a "semi-frozen" dessert.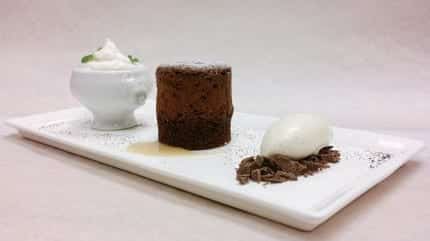 Cocoa is another Hawaiian product, and Chef Ron is using Kokoleka chocolate for his "Chocolate with Aloha" dessert that's made with chocolate from Waialua Estate (cacao and coffee beans) on O'ahu's North Shore, where the nutrient-rich volcanic soil, abundant rainfall and plentiful sunshine produce some of the world's best cacao.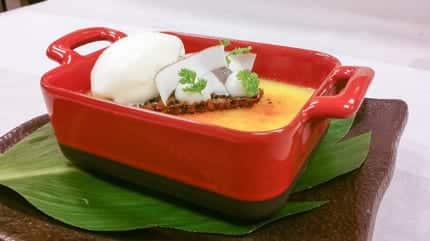 Chef Ron also added a modern representation of Hawai'i's traditional mochi cake, a tender, soft, chewy dessert made with rice. And he's using lemongrass and coconut in the lemongrass crème Catalana, an island version of the classic French crème brûlée made with fresh coconut.
"Of six desserts on the menu, five are new," says Chef Ron. (He kept the popular chocolate cake, now called "Mocha Chantilly Cake.") Guests seems to love the lemongrass crème Catalana too, he says. Hopefully you'll get to visit Aulani soon – Chef Ron changes the desserts about every six months.
"It was so much fun sourcing products locally to make some delicious desserts for our guests at 'AMA 'AMA," says Chef Ron. "Giving diners a taste of Hawai'i makes their vacation extra special."