Global Sing-Along Celebrates 50th Anniversary of 'it's a small world'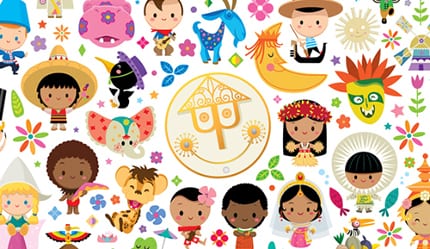 Richard and Robert Sherman wrote "it's a small world" fifty years ago and now all Disney fans can celebrate this and help out a great cause. It is argued that this song is the single most performed and most translated piece of music on Earth. From our friends at the Disney Parks blog:
As you may have just heard on Good Morning America, you're invited to join a first-of-its-kind, online global sing-along at SmallWorld50.com to celebrate the 50th anniversary of "it's a small world," – the classic Disney Parksattraction that opened as a tribute to peace and hope at the 1964 New York World's Fair.
We'll be celebrating the anniversary on April 10 but we've already kicked off the worldwide celebration. People from more than 25 countries, including bagpipers in Scotland, Bollywood movie actors in India, a firefighter in New York City, and members of the Mormon Tabernacle Choir, came together to create a first worldwide "it's a small world" video.
You can participate in this historic celebration by recording an online video of yourself singing "it's a small world" on our new global online hub SmallWorld50.com. At the site, you can also create virtual "it's a small world" dolls to share with your friends. The Walt Disney Company will donate $150,000 to benefit UNICEF in honor of the 50th anniversary of "it's a small world," plus $1 for every sing-along video recorded on SmallWorld50.com and another $1 for every virtual doll created on the website, up to $100,000.
On April 10, hundreds of voices from Disneyland Resort in California, Walt Disney World Resort in Florida, Tokyo Disney Resort in Japan, Disneyland Paris in France and Hong Kong Disneyland Resort will come together to sing the unforgettable theme song of the "happiest cruise that ever sailed the seven seas."
Go share your online video at SmallWorld50.com and keep checking the Disney Parks Blog as we celebrate the 50th anniversary of "it's a small world."
Co-Owner / Webmaster / Business Relations / PT Writer
As co-owner and co-creator of The Main Street Mouse. Working in a technical support position for 18 years, it was time for a change. As the Webmaster and Project Planner, I spend most of my time researching everything from the latest Disney News, technology advances and of course keeping up on all the Marvel news that comes out. I never considered myself a writer but I've come to like blogging and sharing news with all. I feel blessed everyday that I get to spend my days working with my best friend and love of my life while we continue to grow and expand what started as a hobby all those years ago.