The Mandarin Action Figure – Iron Man 3
Recently, I was fortunate enough to be given the opportunity to review a product for a company.  The company is http://www.sideshowtoy.com/ and the product was The Mandarin from Iron Man 3.  Now when I was younger I collected action figures, oh who am I fooling, I still do.  But at the time I had plenty of Star Wars, G.I. Joe, and He-Man figures and sets.  Now the action figures when I was growing up in the late 70's early 80's were the smaller versions.  They could fit in the ships or cars.  Their legs bent at the hip, arms moved up and down, and heads even turned.  They always had an accessory or two which was usually a weapon.  Hours and hours of fun.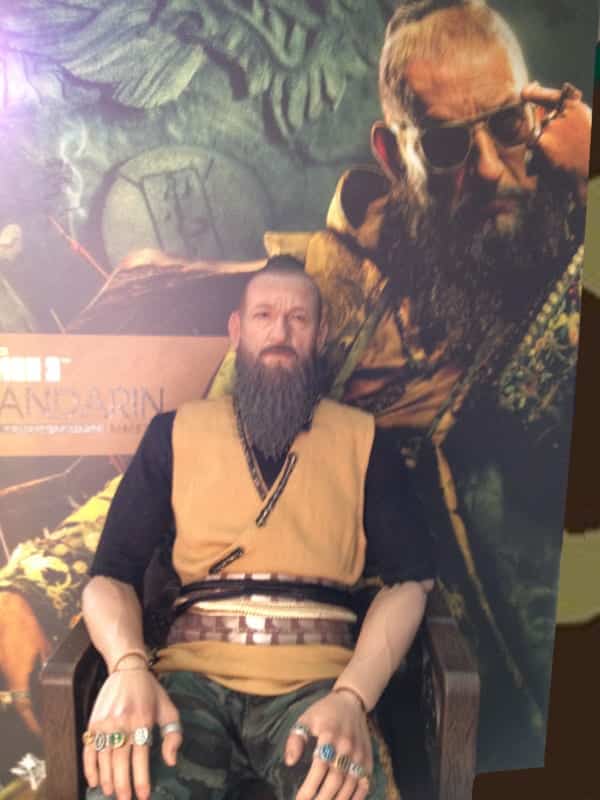 Once I removed the plastic cover on the box, there were 3 different sections.  One being the figure himself.  Second, different hands in different poses.  Some open, some clinched, but I thought it was very cool to be able to change the hands.  The third piece was his chair.
Let's start with The Mandarin.  Honestly when I saw this, I thought about the machine used in The Santa Clause 2 that created the duplicate of Santa.  I started to think that they took Sir Ben Kingsley and sent him through the machine to create a smaller version of him.  I pulled him from his space carefully.  Basically he had a hood of plastic protecting the head.  Once removed it showed the detail.  The face is amazing.  Honestly I was looking at it and thinking of all the scary movies I saw where the doll or figure came to life, it looks that real.  The hair looks very real where you can see how the strands would lay.  His beard was exactly the same.  The clothing was very well made.  You would think it was hand sewn just for this figure, and honestly to know there are multiples of the same character made makes me wonder how do they go through all the work.  Something that is amazing, there are over 30 points of articulation on this figure.  You can turn his head, hands, arms, legs, feet as you can see by the photos below.  The head sculpt is even hand painted.
The second section was the space with his spare hands, eye glasses (yes I said eye glasses), and then extra pieces for the connections of the hands.  First the glasses are really nice, they are cheap flimsy plastic. They were sturdy and fit the head of the figure perfect.  The hands are amazing.  Not only the detail of the fingers and the rings, but you even see the veins in the hands.  
The seat was very well built.  Made to look like it was wood.  Now most people who have had action figures in their life, you know that the character can only bend so much.  They never seemed to fit just right into the car, or seat that was made for them.  This is not the case with this figure at all. You can position him to sit just like a real person sits.  He can slouch down or have him sit up right.  It's really amazing.
Also there is a stand with a name plate at the bottom which held the figure very well.  I know in the past I always had a problem with figures standing correctly, unless you bent the leg back and one forward so it looked almost like he was getting ready to do the splits.  Not the case with this one.  The stand is sturdy and his boots are level so he can stand pretty easily without any issue, great for displaying on a shelf.
This figure is really amazing.  Over the years I have seen many action figures and the detail that gets added, but I have never seen anything like this.  I'm sure that all their products have the same attention to detail and hope to be able to see more of them.  I have included multiple pictures from the figure I was sent and also is the complete details below.  If you are a collector of figures, I would highly recommend checking out what they offer at http://www.sideshowtoy.com/.  They have figures for so many different studios, of course my favorites are the Marvel and Star Wars.  My dream would be to have the 7ft 1in Iron Man MARK 42












Product Details
License              Marvel

Scale                   Sixth Scale Figure

Manufacturer  Hot Toys
Product Sku     902077

UPC                     4897011175362
What's in the Box?
Authentic and detailed fully realized likeness of Sir Ben Kingsley as The Mandarin in Iron Man 3
Movie-accurate facial features with detailed beard, wrinkles and skin texture
Approximately 28 cm tall
Body with over 30 points of articulation
Seven (7) interchangeable palms with rings including:
One (1) pair relaxed palms
One (1) pair of fists
One (1) pair of open palms
One (1) posed right palm
Each piece of head sculpt is specially hand-painted
One (1) black tee
One (1) light brown vest with dark green trim
One (1) patterned waistband
One (1) embroidered dark green robe with bronze color trim and hood
One (1) pair of camouflage pants with golden dragon embroidery
One (1) pair of army green boots
One (1) Chinese style antique chair
One (1) pair of sunglasses
Figure stand with The Mandarin nameplate and the movie logo
Co-Owner / Webmaster / Business Relations / PT Writer
As co-owner and co-creator of The Main Street Mouse. Working in a technical support position for 18 years, it was time for a change. As the Webmaster and Project Planner, I spend most of my time researching everything from the latest Disney News, technology advances and of course keeping up on all the Marvel news that comes out. I never considered myself a writer but I've come to like blogging and sharing news with all. I feel blessed everyday that I get to spend my days working with my best friend and love of my life while we continue to grow and expand what started as a hobby all those years ago.