10 Years of The Muppets and Disney
February 20th, marks the 10th anniversary that Kermit, Miss Piggy and the rest of The Muppets joined the Disney family.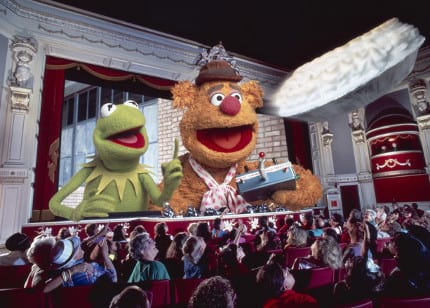 Even though The Muppets became "official" members of Disney in 2004, although the partnership with them was started many years earlier.  Muppet*Vision 3D debuted in Disney's Hollywood Studios back in 1991.  The attraction was also added to Disney California Adventure park in 2001.
I remember growing up and watching The Muppet Show each week.  Always waiting to see who the guest star would be, for some reason I remember John Denver on the show 0ften.  Jim Henson created an amazing character when he started with Kermit back in the 50's and grew the franchise to characters that have such a big place in many people's hearts.  Sadly, Jim Henson died in 1990.  At the time he was in negotiations with The Walt Disney Company, but the talks never materialized.  Eventually Disney purchased the properties, but before that they were always interested in The Muppets and co-produced the films after Jim's passing.  In shocking news just last week, Jim's son John passed away of a heart attack at the age of 48.  John was most known for playing Sweetums, the lovable monster who is a part of the show in Muppet*Vision 3D.