Ride Rituals By John Leever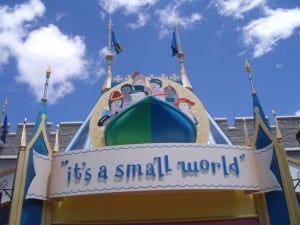 We have a Guest Blog for you, submitted by John Leever! Enjoy!
When we are at WDW, many rides for us have rituals specific to each. These are things that we have done so many times that have become routine recurring jokes and fun things. Guessing the color of the monorail happens as we wait for one or as we are heading to our hotel when we first get to WDW, will it be red, blue, green, gold, black. What will it be?
One of my favorite rituals was on Snow White's Scary Adventure but since the ride has been removed from WDW I won't get to do it anymore. As we made our way through the queue we would each try to guess the name of the dwarf that would be the vehicle we would ride. On the Winnie the Pooh ride we turn to see the picture of Mr. Toad handing the deed to Owl, giving a nod to another past ride we loved.
On Pirates of the Caribbean the kids would point out my favorite scene making sure I did not miss it. It is the scene not too far along where the skeleton is standing on the broken ship and is holding on to the ships wheel turning it slightly back and forth.
We have several rituals on It's a Small World. When we get to the platypuses we raise our hands up and down as they do. We do the hula with the hula girls both the slow ones and the fast ones. At the end of the ride we read the good byes in all the different languages. But the most unusual ritual on Small World is between my niece and I. We have a dance we do while sitting that goes along with song. She is in her twenties now but last year when we were there for my birthday, she did it with me again.
On Splash Mountain, before we begin the big climb before the big drop, we guess what Brer Fox says he will do to Brer Rabbit. There are three different possibilities; hanging, roasting, and skinning, and when you are near the top, Brer Fox will say one. The winning guessers cheer loudly. The other Splash Mountain ritual is to the pose for the picture. We have held hands, covered our faces, made bunny ears to ones in front, but our favorite pose was when we all looked backwards. There were enough of us to fill the log. When my sister and our friend went to purchase the picture, the cast member called over another cast member and then asked my sister jokingly "how do we know this is you?". My sister and our friend, without so much as a word between, them turned their heads away from the cast members at which point the cast members agreed it was them.
Buzz Lightyears Space Ranger Spin offers another ritual. We would bet a Disney dollar on who gets the highest score. With Splash Mountain and Carousel of Progress, we sing along at the end of the ride.
You can start your ride ritual before you get to WDW. As the plane is landing, we start looking for palm trees. We live in a place without palm trees so seeing them has become synonymous with vacation. The next happens on the ride to WDW. The kids would try to stretch their leg or arm out in front of everybody else in our group so they would be the first onto WDW property and of course to join in I would try too but I would never could win.
These are some of our ride rituals. What are yours?
Michele Atwood is the Owner/Editor of The Main Street Mouse and it's subsidiaries and author of the book "Moving to Main Street U.S.A." Michele also contributes Disney news to the Joe Kelley Morning Show on 96.5 WDBO in Orlando. She and her family made the move from Michigan to the Orlando area to pursue their Disney dreams. Michele is a life long Disney fan, and has two sons who have followed suit, each going on their first Disney trip before their first birthday's. Part of the goal Michele has for The Main Street Mouse is not only to keep members informed, but to create somewhat of a Disney Family by relating to others through personal experiences and opinions. Also, Michele is making it a priority to share stories of inspiration and hope to other Disney Fans in an effort to share the Magic and hopefully make a difference in the lives of others.