A Valentine Tale Made in Disney
Re-posting this great blog for Valentine's Day!

I read this blog and decided this had to be shared with all our members on Valentine's Day.  From the Disney Parks Blog they shared the story of Marc and Alice Davis.
As we celebrate Valentine's Day, I thought it would be fitting to highlight the only married couple who have each been honored with their own windows on Main Street, U.S.A., at Disneyland park – Marc and Alice Davis. Married in 1956, the couple is said to have enjoyed a "Disney fairy-tale-romance-come-true" for 44 years until Marc's death in 2000. Their windows, which are a tribute to their outstanding contributions to Disneyland, are side-by-side just north of the Main Street Cinema as a representation of their lifelong partnership.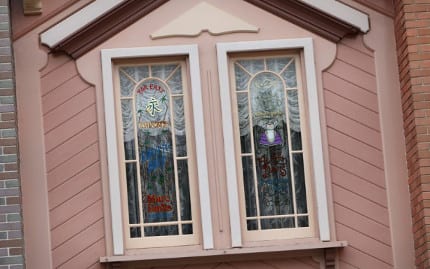 Marc and Alice first met at the renowned Chouinard Art Institute, which was a training ground for many Disney artists. Marc was an instructor and Alice was a student. Marc joined the Disney Studio in 1935 as an assistant animator, and later became an Imagineer. He was also a member of the elite group referred to as Walt's "Nine Old Men." Marc dedicated his creative genius to helping Walt bring his ideas to life. When reflecting on his years at Disney, Marc once said, "I rarely felt confined to the animation medium. I worked as an idea man and loved creating characters, whether they be for animation or any other medium."
Marc is probably best known as the father of some of Disney's most memorable animated women, including Cruella De Vil from "101 Dalmatians," Maleficent from "Sleeping Beauty," and Tinker Bell from "Peter Pan." When asked to choose a favorite among his creations, Marc replied, "Each of my women characters has her own unique style; I love them all in different ways."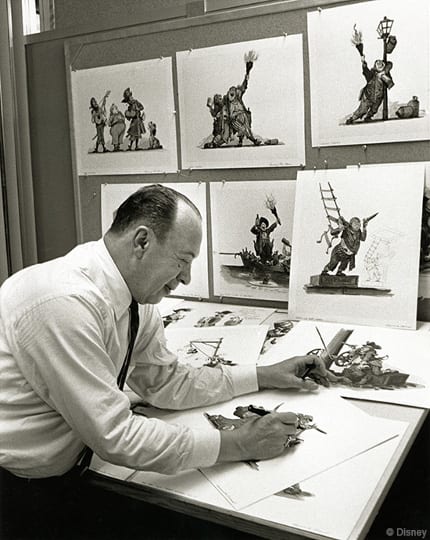 Marc also contributed story and character concepts to Disneyland attractions such as Walt Disney's Enchanted Tiki Room, "it's a small world," Pirates of the Caribbean, Haunted Mansion and Jungle Cruise.
During this time, Alice was making a name for herself as the original "designing woman" at Walt Disney Imagineering. She collaborated with art director and Disney Legend Mary Blair on the "it's a small world" attraction for the 1964-65 New York World's Fair. Alice researched, designed and supervised the creation of more than 150 highly detailed costumes for the Audio-Animatronics children of the world. Later she translated pirate attire from her husband Marc's original drawings into clothing designs and patterns for Pirates of the Caribbean in 1965. Alice once recalled with a gleam in her eye, "I went from sweet little children to dirty old men over night."
While both retired in 1978, Marc continued to lend his expertise to the development of Epcot Center and Tokyo Disneyland, and Alice continued as a consultant. Marc was named a Disney Legend in 1989 and Alice in 2004. They were also long-time supporters of the California Institute of the Arts, which was founded by Walt Disney.
Marc's window reflects his personal passion for primitive art: "Far East Imports – Exotic Art – Marc Davis – Proprietor"; while Alice's window highlights her role: "Small World Costume Co. – Alice Davis – Seamstress to the Stars."
At the dedication of her window on May 10, 2012, Alice stated, "All things good you have to wait a while for. After 83 years, I got my wish."
Co-Owner / Webmaster / Business Relations / PT Writer
As co-owner and co-creator of The Main Street Mouse. Working in a technical support position for 18 years, it was time for a change. As the Webmaster and Project Planner, I spend most of my time researching everything from the latest Disney News, technology advances and of course keeping up on all the Marvel news that comes out. I never considered myself a writer but I've come to like blogging and sharing news with all. I feel blessed everyday that I get to spend my days working with my best friend and love of my life while we continue to grow and expand what started as a hobby all those years ago.