Artist Showcase with Larry Dotson
Walt Disney World® Resort is pleased to present the artwork for internationally recognized artist, Larry Dotson. Larry's oil paintings of Disney scenes capture the magical memories of trips to Disney Parks. Join us as we debut some of his latest releases. Prices, Sizes and Formats may vary.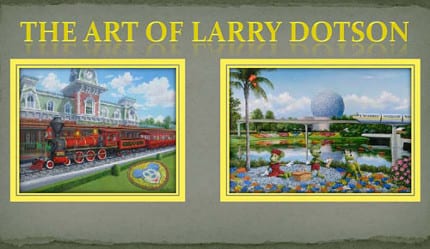 Appearance Schedule
February 13-17, Main Street Cinema, Magic Kingdom® Park
March 5-9, Art of Disney® Store, Epcot®
About The Artist:

Larry Dotson is an internationally recognized artist best known for his oils of coastal scenes, sunsets, and golf courses. He was chosen by the PGA to illustrate the beautiful 18-hole Poipu Bay golf course at Poipu, Kauai, Hawaii for the 1997 Grand Slam Program. His golf prints can be found in many pro shops throughout the Hawaiian Islands.
Born in Missouri in 1942, raised in Southern California and from the time Larry was in high school, he was winning awards for his technical style of illustration. An award from Ford Motor Company for creative design and skill inspired this artist toward his life long dream. With this skill, Dotson was led into the aerospace industry as an artist for North American Rockwell and McDonnell Douglas. Years later he went on to open several galleries in California where he taught oil painting classes to both adults and children. His love of the tropics led him and his family to Maui, Hawaii. Since Dotson's beginning in Maui in 1983, recognition has been steadily growing for his accomplishments. From 1983-1995, Dotson was showcased at his gallery at the Pioneer Inn across from the historic Banyon Tree in Lahina Hawaii. Being the art capitol of the Pacific, Hawaii enabled Larry to reach clients worldwide. During the time Larry spent in Maui, he was asked to have a one man show in Nagoya, Japan which gave him international status. Larry and his wife Patti currently live in Orlando, Florida. Larry continues to market his work in the Hawaiian Islands, Florida and nationwide.
In Florida, Larry's work can be seen at the four Walt Disney World® Theme Parks, Disney's Animal Kingdom Lodge, Disney's Caribbean Beach Resort, Disney Golf Course Pro Shops, Art of Disney Galleries, and Disney Cruise Line.
Appearances are subject to time and availability and are not guaranteed. Event and information are subject to cancellation or change without notice including but not limited to dates, times, release dates, appearances and retails. A valid Walt Disney World® Resort receipt may be required. Separate admission is required to the Walt Disney World® Resort.
Co-Owner / Webmaster / Business Relations / PT Writer
As co-owner and co-creator of The Main Street Mouse. Working in a technical support position for 18 years, it was time for a change. As the Webmaster and Project Planner, I spend most of my time researching everything from the latest Disney News, technology advances and of course keeping up on all the Marvel news that comes out. I never considered myself a writer but I've come to like blogging and sharing news with all. I feel blessed everyday that I get to spend my days working with my best friend and love of my life while we continue to grow and expand what started as a hobby all those years ago.