Artist Showcase with Katie Kelly
Katie Kelly will be on hand for a special appearance February 15 – 16, from 10 a.m. to 4 p.m. at Off the Page in Disney California Adventure® Park as she debuts a brand new, never before seen piece inspired by Alice in Wonderland, as well as some of her previously released pieces, like those seen below.
"When Mickey Mouse's smiling face would appear on the television, as a little girl I knew I was in for a special treat. Behind each and every Mickey Mouse classic film introduction, was a promise of being entertained by comical characters surrounded by beautiful colors and creating pure happiness. In the painting, Movie Time With Mickey, Mickey and Minnie cozy up on the couch together to enjoy a classic Mickey Mouse film. Oswald, Pluto, and Chip and Dale join them with snacks and refreshments in hand. There are thirteen Mickeys hidden this painting. So look carefully to find all the hidden elements within this piece."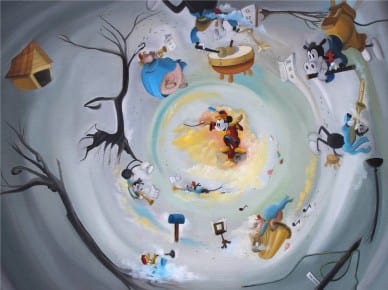 "As a child, I grew up watching the early classic Disney movies, one of which was, Mickey At The Band Concert. I was enchanted and humored by Mickey's behavior in this film. Dedicated and determined, Mickey Mouse, beyond all obstacles leads his band through a whirling and chaotic tornado. As it is swirling around each band member, they don't miss a beat. What most people don't know about this painting, is that someone very special is hidden in this piece. At first it looks as though Mickey has center stage, but in this painting he shares the stage."

About The Artist
Following her passions, Katie studied graphic design and oil painting at Indiana University, and graduated with her BA in Fine Arts. Through Katie's artistic accomplishments, she has been given an amazing opportunity to be an artist for Disney. Katie believes that art has enabled her to express her inner self to others. "When I am sketching and painting," she explains, "my mind is clear and I am at peace. I truly enjoy what I do and I hope to convey these feelings to others through my work." She acknowledges that countless people have helped her along the way and she appreciates their assistance more than words can express. "Someone once told me," she explains, "that one of the best ways to give back is to use your God-given talents to help others. I feel very blessed to be given the opportunity to paint and share it with those around me."
[nggallery id=29]
Limit TWO (2) items signed per Guest. We ask that you bring no personal items to be signed. Appearances are subject to time and availability and are not guaranteed. Restrictions apply. Event and information are subject to cancellation or change without notice including but not limited to dates, times, release dates, appearances and retails. A valid Disneyland® Resort receipt may be required. ©Disney
Co-Owner / Webmaster / Business Relations / PT Writer
As co-owner and co-creator of The Main Street Mouse. Working in a technical support position for 18 years, it was time for a change. As the Webmaster and Project Planner, I spend most of my time researching everything from the latest Disney News, technology advances and of course keeping up on all the Marvel news that comes out. I never considered myself a writer but I've come to like blogging and sharing news with all. I feel blessed everyday that I get to spend my days working with my best friend and love of my life while we continue to grow and expand what started as a hobby all those years ago.