So Did You Notice the Other Disney References in Frozen?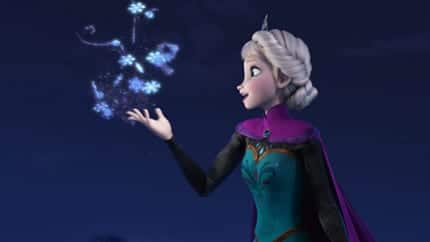 So you have seen Frozen and love it.  Gone to the character meet and greets in the parks.  Bought the merchandise, pre-ordered the DVD or Blu-Ray and even plan on attending one of the sing-a-longs.  But did you see the other Disney references in the movie?
WELCOME TO ARENDELLE: Elsa's coronation draws guests from far-away lands—and movies. From Tangled, Eugene Fitzherbert aka Flynn Rider and Rapunzel even made the guest list.
SWEET REPEAT: Anna's affinity for chocolate summons sweet treats all the way from the land of Sugar Rush in Wreck-It Ralph.
IT'S A MOUSE!: Disney's famous icon makes the quickest of cameos in Frozen. A small Mickey Mouse plush sits on one of the lower shelves in Wandering Oaken's Trading Post and Sauna.
REPURPOSED PAINTING: Artist Lisa Keene's painting—completed during the development phase of Tangled and based on The Swing by Jean-Honoré Fragonard—made such an impression onFrozen filmmakers, it became part of Anna's signature song, "For the First Time in Forever," when she leaps into the air and mimics the painting's pose.
Co-Owner / Webmaster / Business Relations / PT Writer
As co-owner and co-creator of The Main Street Mouse. Working in a technical support position for 18 years, it was time for a change. As the Webmaster and Project Planner, I spend most of my time researching everything from the latest Disney News, technology advances and of course keeping up on all the Marvel news that comes out. I never considered myself a writer but I've come to like blogging and sharing news with all. I feel blessed everyday that I get to spend my days working with my best friend and love of my life while we continue to grow and expand what started as a hobby all those years ago.