Disney Super Bowl Memories for January 31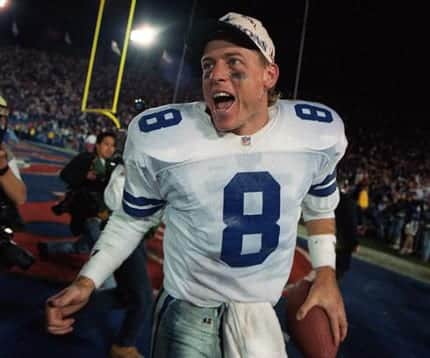 Continuing with our Disney – Super Bowl Memories.
In 1988, Super Bowl XXII was played in San Diego, CA and we saw the Washington Redskins against the Denver Broncos.  After trailing 10–0 at the end of the first quarter of Super Bowl XXII, the Redskins scored 42 unanswered points, including a record-breaking 35 points in the second quarter, and setting several other Super Bowl records. The Redskins will go on to win the game 42-10.
Doug Williams, the Redskins Quarterback, completing 18 of 29 passes for a Super Bowl record 340 yards and four touchdowns, with one interception. He also became the first player in Super Bowl history to pass for four touchdowns in a single quarter, and four in a half. Williams is to date the only African American starting quarterback to win a Super Bowl. The 10-point deficit remains the largest deficit overcome by a Super Bowl victor. At the conclusion of the game, MVP Doug Williams said those words "I'm going to Disney World".
In 1993, Super Bowl XXVII showed the Dallas Cowboys playing against the Buffalo Bills.  This will be Buffalo's third consecutive Super Bowl appearance.  The game was played at the Rose Bowl Stadium in Pasadena, CA.  Michael Jackson performed during the entire halftime show, starting the NFL's trend of signing top acts to appear during the Super Bowl to attract more viewers and interest.
Dallas forced a Super Bowl record nine turnovers — four interceptions and five lost fumbles.  Thirty-five of the Cowboys' points came off of those turnovers, including three first half touchdowns.  Bills backup quarterback Frank Reich, who replaced injured starter Jim Kelly in the second quarter, threw a 40-yard touchdown on the final play of the third quarter to cut the lead to 31–17, but Dallas scored three more touchdowns in the fourth quarter. In the game's most memorable play, another Cowboys touchdown could have been scored on defensive lineman Leon Lett's fumble return, but he was stripped of the ball by Buffalo wide receiver Don Beebe as Lett started to showboat just before crossing the Buffalo goal line, and the football rolled into the Buffalo endzone and out of bounds for a touchback.
The Cowboys went on to win over the Bills 52-17, handing them their 3rd consecutive loss .  Cowboys quarterback Troy Aikman was named Super Bowl MVP, completing 22 of 30 passes for 273 yards and four touchdowns for a passer rating of 140.6, while also rushing for 28 yards. At the end of the game, as Troy Aikman raced off the Rose Bowl field on a jet stream of emotion, he looked into a TV camera and began screaming at the top of his lungs, over and over, "I'm going to Disneyland!" and then, "I'm going to Disney World!"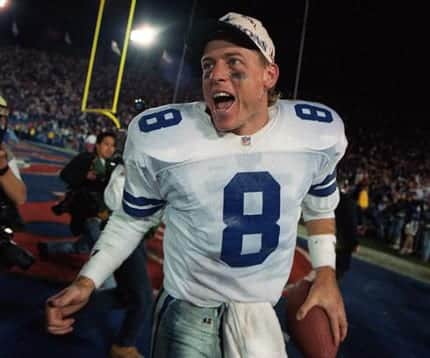 In 1999,  Super Bowl XXXIII was played in Miami, FL at Pro Player Stadium against the Denver Broncos and the Atlanta Falcons.
The defending Super Bowl champion Broncos entered the game with an AFC-best 14–2 regular season record. The Falcons, under former Denver head coach Dan Reeves, were making their first Super Bowl appearance after also posting a 14–2 regular season record.
Aided by quarterback John Elway's 80-yard touchdown pass to receiver Rod Smith, Denver scored 17 unanswered points to build a 17–3 lead in the second quarter from which Atlanta could not recover. The Denver Broncos went on to win the Super Bowl once again with a final score of 34-19.  At the completion of the game, Terrell Davis and John Elway of the Denver Broncos shout "We're going to Disney World!"   At 38 years old, Elway became the oldest player ever to be named Super Bowl MVP.  As the final game of his career, he completed 18 of 29 passes for 336 yards, with one touchdown and one interception, and also scored a 3-yard rushing touchdown.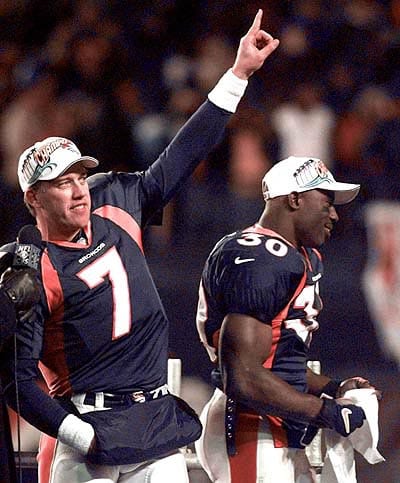 Co-Owner / Webmaster / Business Relations / PT Writer
As co-owner and co-creator of The Main Street Mouse. Working in a technical support position for 18 years, it was time for a change. As the Webmaster and Project Planner, I spend most of my time researching everything from the latest Disney News, technology advances and of course keeping up on all the Marvel news that comes out. I never considered myself a writer but I've come to like blogging and sharing news with all. I feel blessed everyday that I get to spend my days working with my best friend and love of my life while we continue to grow and expand what started as a hobby all those years ago.