Super Bowl XXIX – January 29, 1995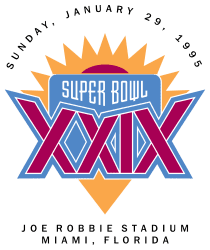 In 1995, Super Bowl XXIX was played at Joe Robbie Stadium in Miami, Florida. The game featured the San Francisco 49ers vs. the San Diego Chargers.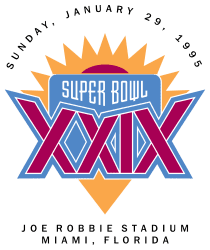 Steve Young threw a record 6 touchdown passes en route to the Super Bowl MVP award. (His four TDs in a half tied Doug Williams from the Washington Redskins). He also completed 24 out of 36 passes for 325 yards, and was the top rusher of the game with 49 rushing yards (the first time both top passer and rusher were the same person). Two of Young's touchdown passes occurred on the 49ers' first two drives of the game. The Chargers were able to cut the deficit late in the first quarter, 14–7, on 13-play, 78-yard drive, but could not slow down San Francisco afterwards. Still, this became the first time that both teams scored in all four quarters of a Super Bowl. The combined aggregate score of 75 and the ten total touchdowns both remain Super Bowl records. The 49ers would go on to win the day 49-26
The halftime show was titled "Indiana Jones and the Temple of the Forbidden Eye" and was produced by Disney to promote their Indiana Jones Adventure attraction at Disneyland that opened later that year. The show featured actors playing Indiana Jones and his girlfriend Marion Ravenwood who were raiding the Vince Lombardi Trophy from the Temple of the Forbidden Eye. The show also had performances by singers Tony Bennett and Patti LaBelle, jazz trumpeter Arturo Sandoval, and the Miami Sound Machine. The show ended with everybody singing "Can You Feel The Love Tonight", the song featured in Disney's 1994 film The Lion King.

This halftime show also had a connection with past ABC programming: the first two Indiana Jones films had their broadcast premieres on ABC, and the network aired a TV series, The Young Indiana Jones Chronicles, from 1992 to 1993
Jerry Rice and Steve Young of the San Francisco 49ers shout "We're going to Disney World!" after their team defeated the San Diego Chargers, 49–26.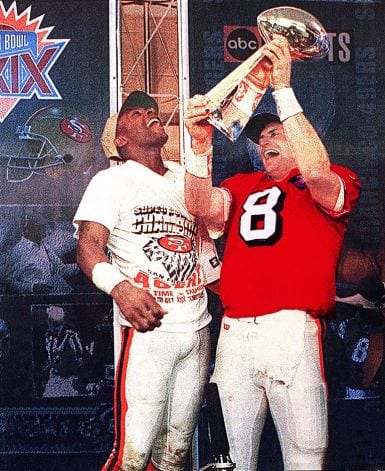 Co-Owner / Webmaster / Business Relations / PT Writer
As co-owner and co-creator of The Main Street Mouse. Working in a technical support position for 18 years, it was time for a change. As the Webmaster and Project Planner, I spend most of my time researching everything from the latest Disney News, technology advances and of course keeping up on all the Marvel news that comes out. I never considered myself a writer but I've come to like blogging and sharing news with all. I feel blessed everyday that I get to spend my days working with my best friend and love of my life while we continue to grow and expand what started as a hobby all those years ago.