Disney Pin Trading Guidelines
So you want to become a Disney Pin Trader?  It's a lot of fun to trade with others Disney Guests and Disney Cast Members.  Disney Pin Trading is magical fun for the whole family! The most important guideline to remember is to have fun collecting or trading the Disney pins you like.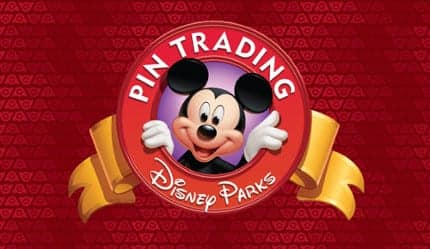 The main criteria to judge whether a pin is tradable or not is that it must be a metal pin bearing a "©Disney"mark on the back that represents a Disney Event, Place or Location, Character or Icon.
Pins should be in good, undamaged, tradable condition.
For a safe trading experience, please trade one pin at a time, hand to hand with pin backs attached.
Guests may trade a maximum of two (2) pins per Cast Member, per day.
Please refrain from touching a Cast Member's or Guest's pins or lanyard. If you need a closer look, kindly ask the Cast Member or Guest wearing the lanyard if she or he can bring it into clearer view for you.
Monies, gifts or receipts may not be exchanged or used in trade for a pin.
When trading with a Cast Member, Guests should offer a pin that is not currently displayed on the Cast Member's lanyard.
Pins from other business units of The Walt Disney Company (i.e.ABC, ESPN) are accepted for trade.
Operating participant pins that show a Disney, Disneyland®Resort, or Walt Disney World®Resort affiliation are accepted for trading.
Plastic pins, rubber pins or other non-metal pins are not accepted for trading.
"Personalized Name"pins are not accepted for trade.
"Broche style"or "clasp pins"are not accepted for trade.
Disney Service Award pins, Spirit of Disneyland®Resort pins, Partners in Excellence pins or Cast Member costume pins (i.e. Host/Hostess Badges, Disney Trainer) are not tradable.
Guidelines are subject to change without notice. Guests suspected of abusing the guidelines or the pin trading process may be subject to, among other things, removal from the resort premises.
Co-Owner / Webmaster / Business Relations / PT Writer
As co-owner and co-creator of The Main Street Mouse. Working in a technical support position for 18 years, it was time for a change. As the Webmaster and Project Planner, I spend most of my time researching everything from the latest Disney News, technology advances and of course keeping up on all the Marvel news that comes out. I never considered myself a writer but I've come to like blogging and sharing news with all. I feel blessed everyday that I get to spend my days working with my best friend and love of my life while we continue to grow and expand what started as a hobby all those years ago.