FastPass+ Available to all Guests at Hollywood Studios and Epcot, Jan 21 & 23.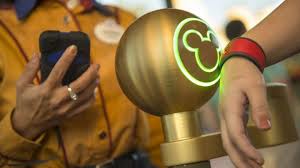 Just like Animal Kingdom and the Magic Kingdom, this coming week will mark the end of the legacy Fastpass (paper tickets) for Hollywood Studios and Epcot. The new FastPass+ system will be implemented as follows: Disney's Hollywood Studios will begin only using FastPass+ on January 21, and Epcot will follow suit on January 23 2014. This will complete the FastPass+ introduction for all guests at all 4 Walt Disney World theme parks.
The new system will operate the same way as Disney's Animal Kingdom and the Magic Kingdom, offsite guests will be able to make 3 FastPass+ selections for same day/same park, at one of the in-park FastPass stations. People staying off property will not be able to make advance reservations. Guests staying at a Walt Disney World Resort hotel will be able to continue to make advance reservations and use the new MagicBands.
I know there is a lot of confusion as to how the new system will work, and there is quite a bit of changes for people to get used to. Disney goers are creatures of habit, so I know it's going to be an adjustment. We are going to work towards getting an information section for our readers specifically to assist in the new FastPass+ system, so stay tuned!