The Marvel Experience
There is no need to panic when you see domes appearing in your cities this coming summer, the domes are the traveling venue for The Marvel Experience.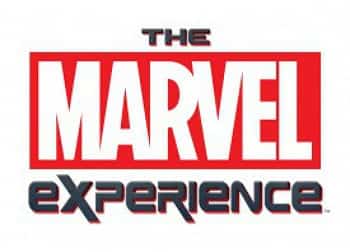 "The Marvel Experience," produced by Hero Ventures, is a unique, multimedia, family-oriented, touring experience unlike anything ever seen before. Within the multi-dome complex nearly the size of two football fields, you'll be part of an interactive adventure featuring dozens of Marvel's Super Heroes.
Passing through the gates, visitors will find an original motion ride, exclusive 3D animated features, digitally projected animation, motion-comic book origin stories, virtual reality and holographic simulations, dynamic interactive activities, as well as integrated social media touch points which are carefully woven into the rich narrative story line at every twist and turn.
Today, Hero Ventures released a first-look rendering of the highly anticipated design of The Marvel Experience domed complex set to tour the country in 2014.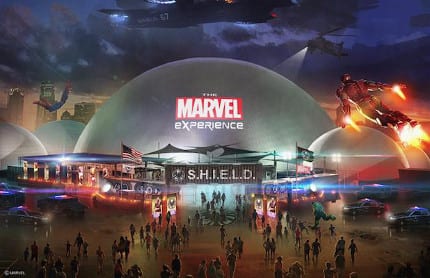 Canvassing a 2-acre footprint of more than 80,000 square feet, this state-of-the-art, custom built multi-Dome complex will represent the first time a venue of this type, size and scope will be utilized for a mobile tour. From the outside, The Marvel Experience resembles a temporary S.H.I.E.L.D. installation or "Mobile Command Center," with the facility's apex towering more than six stories high. Inside, a maze of connected Domes will lead guests through an array of interactive games and original animated short films including the first- ever traveling motion-based ride, where guests become immersed in this original adventure only found in The Marvel Experience. This unique, themed entertainment experience is scheduled to visit select US and Canadian markets for weeks at a time in each city and is designed to engage audiences through compelling family entertainment with a production value consistent with the iconic nature of the Marvel Super Heroes.
"The Domes are central to the singular story line that pulses through The Marvel Experience and are enhanced by state-of-the-art design applications and graphic elements," said Doug Schaer, COO of Hero Ventures. "The interior will feature an exaggerated comic-style utilizing projected high-tech imagery, amazing fabricated set pieces and virtual simulations to advance the story. Our guests will be interacting directly with multiple Marvel Super Heroes, as well as members of S.H.I.E.L.D., as they take their place in the Marvel Universe".
Co-Owner / Webmaster / Business Relations / PT Writer
As co-owner and co-creator of The Main Street Mouse. Working in a technical support position for 18 years, it was time for a change. As the Webmaster and Project Planner, I spend most of my time researching everything from the latest Disney News, technology advances and of course keeping up on all the Marvel news that comes out. I never considered myself a writer but I've come to like blogging and sharing news with all. I feel blessed everyday that I get to spend my days working with my best friend and love of my life while we continue to grow and expand what started as a hobby all those years ago.