Exclusive First Look: New Annie Leibovitz Disney Dream Portrait Featuring Jessica Chastain as Merida
*From Disney Parks!
I guess it was fate that the first character from a Disney•Pixar film celebrated in our Disney Dream Portrait series would be Merida from "Brave." Created by the amazing Annie Leibovitz, and featuring Oscar-nominated actress Jessica Chastain, our latest portrait is entitled, "Where your destiny awaits."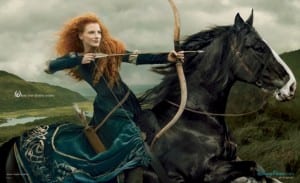 This stunning new portrait can be seen in the February issue of O – The Oprah Magazine, available on newsstands later this month.
Haste ye back and we'll go behind the scenes of this hair-raising photo shoot on Friday!