Most Popular Items from Disney Theme Park Merchandise in 2013
TMSM Friend, Steven Miller, put out a blog about the most popular themed merchandise for 2013.  We wanted to share Steven's post and then ask, what was the thing that debuted this year that you liked the most.  Here is Steven's article:
As this year draws to a close, I looked back at some of the most popular stories we shared on the Disney Parks Blog about Disney Theme Park Merchandise. Thank you for the wonderful feedback throughout the year. From what I've seen in development, next year is going to be awesome! Please share your favorite merchandise item from Disney Parks in 2013 in the comments below.
Disney Collection By Vera Bradley
The new Disney Collection by Vera Bradley was the most popular story in 2013. Announced in March 2013, three colors – "Midnight with Mickey," "Just Mousing Around," and "Where's Mickey?" – were released in the fall at World of Disney in Downtown Disney Marketplace in Florida, select Disneyland Resort locations and online at http://www.DisneyStore.com/VeraBradley. There are additional orders of select items en route to Disney Parks, and stay tuned for news about new colors for 2014.
Monstrous Summer All-Nighter
In May 2013, three Disney Parks were open for 24 hours as part of the Monstrous Summer All-Nighter. Michelle Harker and I enjoyed sharing updates throughout the day, including photos of my crazy coast-to-coast adventure.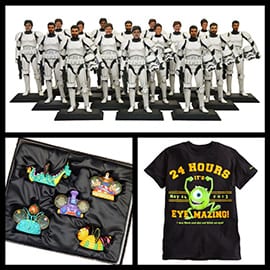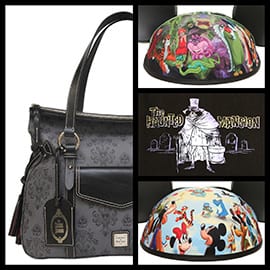 The Haunted Mansion at Home
In February, we shared details about nine Haunted Mansion home décor that really capture the spirit (pun intended) of this classic attraction. These items were followed by an online exclusive tee shirt in August and a beautiful Dooney & Bourke handbag in September. Haunted Mansion fans should prepare for even more incredible things later in 2014.
Beautifully Disney
In March, we launched Beautifully Disney a new collection of cosmetics and beauty products created especially for Disney Parks. Four different collections – "Wickedly Beautiful," "Unlock the Spell" "Fiery Sprit" and "Fantasy in Flight" – can be found at Disney Parks and the Disney Parks online store. In spring 2014, a dedicated Beautifully Disney boutique will open inside the Marketplace Co Op at the Downtown Disney Marketplace in Florida.
Star Wars – D-Tech Me Returns and the Droid Factory Expands
The Star Wars D-Tech Me experience returned to Star Wars Weekends 2013. Using 3D imaging and printing technology, Guests could either cast themselves in Carbonite or become a Stormtrooper. The Droid Factory, the build-your-own Astromech droid action figure experience, was also expanded to Disneyland Resort in spring.
Year of the Ear
We turned the "Limited Time Magic" spotlight a few times on iconic Disney ear hats from strawberry-inspired hats to a unique Disney heroes and villains ear hat cover.
Stylish Holiday Ornaments
Beautiful shoe ornaments strutted into Disney Parks' locations in May 2013. They were soon followed by another wave of resin ear hat ornaments during our Christmas in July celebration. We also released two limited edition ear hat ornament sets featuring the Main Street Electrical Parade and Walt Disney's "Snow White and the Seven Dwarfs."
Music from Disney Parks
Two new official music albums for Disneyland and Walt Disney World Resort were released in August. These albums can be found at select locations at Disney Parks as well as http://www.DisneyMusicStore.com.
Co-Owner / Webmaster / Business Relations / PT Writer
As co-owner and co-creator of The Main Street Mouse. Working in a technical support position for 18 years, it was time for a change. As the Webmaster and Project Planner, I spend most of my time researching everything from the latest Disney News, technology advances and of course keeping up on all the Marvel news that comes out. I never considered myself a writer but I've come to like blogging and sharing news with all. I feel blessed everyday that I get to spend my days working with my best friend and love of my life while we continue to grow and expand what started as a hobby all those years ago.