Random Acts of Kindness ~ Disney Bus Drivers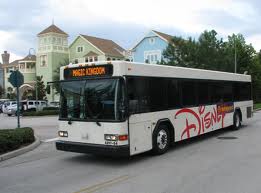 Today is Thursday, and that means it's time for another round of our "Random Acts of Kindness" series. It's not just for the month if December, it's a special segment that I intend to keep going the whole year through. Today's story comes from TMSM Member, Joy Snell. Here's what Joy had to say about her experience with a Magical Disney Cast Member!
My husband was running in the Wine and Dine Half Marathon. He sat a goal at the beginning of 2013 to run 13, 13's in 2013. Disney was his last race of the year, and the one we were looking most forward to! He purchased race party tickets for me and my niece to enjoy Epcot while he ran.
After a day at Animal Kingdom, my niece and I went to Downtown Disney for a little shopping. The race didn't start until 10, so I decided we should leave DD between 8 and 8:30 to allow plenty of time for travel. When we got to the bus stop, a friendly cast member informed me that I would need to go to a resort to catch a bus to Epcot since no buses ran from DD. He told us which resort was closest, Saratoga Springs, and we should be able to catch a bus from there.
However, the traffic was extremely busy. This might have had something to do with roads being blocked off for the race, but it took 1 1/2 hours for what should have been a short bus ride. I was frantic. It was so important for me to witness my husband completing his goal and I was on the verge of tears as we finally pulled up to Saratoga Springs. My niece and I got out of the bus and talked to another friendly cast member at the concierge desk. He pointed to a bench and told us to wait and a bus would take us to Epcot.
As if a fairy god mother waved her magic wand, a bus showed up before we could even sit down. However, it was not displaying Epcot as its destination, it simply said "Training." My heart fell to my stomach. The bus stopped, and one of the drivers got out and asked me, "Where are you two heading?" I told him Epcot. He smiled and said "Come on in, we're taking you." By this time, there was no holding back the tears, as I told the drivers about my husband,the race, and thanking them. The drivers told us to just relax and that we would be there in no time.
We had the whole bus to ourselves. These drivers deviated from their training bus route to take me and my niece straight to Epcot with no other stops. We arrived in plenty of time to watch my husband complete his goal.
It was beyond kind for those drivers to take us and just another reason why Disney is such a magical place. ~Joy
Acts such as this are so important to recognize. We get lost in the shuffle of daily life, and it's good to be reminded of the good things that happen and the magical people who surround these circumstances. Thank you Joy for sharing. If you have a special Disney related story that you'd like to share, please contact me and we will feature your Random Act of Kindness story in a future Thursday article. Thanks so much for reading! ~Michele
michele@themainstreetmouse.com
Michele Atwood is the Owner/Editor of The Main Street Mouse and it's subsidiaries and author of the book "Moving to Main Street U.S.A." Michele also contributes Disney news to the Joe Kelley Morning Show on 96.5 WDBO in Orlando. She and her family made the move from Michigan to the Orlando area to pursue their Disney dreams. Michele is a life long Disney fan, and has two sons who have followed suit, each going on their first Disney trip before their first birthday's. Part of the goal Michele has for The Main Street Mouse is not only to keep members informed, but to create somewhat of a Disney Family by relating to others through personal experiences and opinions. Also, Michele is making it a priority to share stories of inspiration and hope to other Disney Fans in an effort to share the Magic and hopefully make a difference in the lives of others.