Planes flies into theaters today! August 9, 2013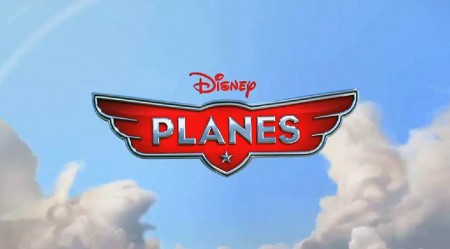 High above the lands such as Radiator Springs and the Piston Cup races, we find Planes. In the new movie we will follow Dusty, the big-hearted, fast-flying crop duster who dreams of competing in the most intense around-the-world air race in history. Dusty has a few small problems though – first he's not exactly a plane that is built for racing and secondly, he's scared of heights.
Even with the odds against him, Dusty does qualify to fly in the big race. Dusty is encouraged by his mentor and former naval aviator Skipper, who will help him overcome his fears. The defending champ of the race is Ripslinger. Ripslinger will stop at nothing to see that Dusty fails though.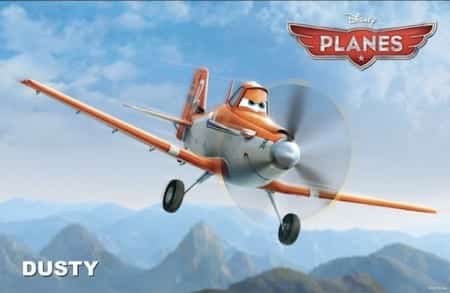 Unfortunately during the climax of the final race, disaster will strike and Dusty's courage will be put to the test. With the support of his friends, old and new, Dusty will reach heights he never dreamed possible.
Disney of course was able to get some wonderful actors and actresses to bring the planes to life. Comedian Dane Cook is the voice of Dusty Crophopper. Dottie, voiced by Teri Hatcher, is a forklift and the co-owner of Chug and Dottie's Fill 'n Fly service center. She will try to keep Dusty from racing, but no matter what he decides she will always have his back. Chug, the other owner of the Fill 'n Fly service center is voiced by Brad Garrett. Dusty's mentor Skipper is played by Stacy Keach.  Dusty's opponent for the film, Ripslinger, is being played by Roger Craig Smith.  Other voices you may recognize in the film are Julia Louis-Dreyfus, Cedric the Entertainer, John Cleese, Sinbad, Val Kilmer, Anthony Edwards, Gabriel Iglesias and many more. You may even see and hear a very familiar tow truck from Cars.
I think this film will have great success. Its very similar to the Cars franchise, just another story line, and that created some great characters. Sounds like Dusty is the underdog but doesn't let that keep him from his dreams. Of course there is a lesson being taught, never give up on your dreams and always chase them no matter how big they are..
Co-Owner / Webmaster / Business Relations / PT Writer
As co-owner and co-creator of The Main Street Mouse. Working in a technical support position for 18 years, it was time for a change. As the Webmaster and Project Planner, I spend most of my time researching everything from the latest Disney News, technology advances and of course keeping up on all the Marvel news that comes out. I never considered myself a writer but I've come to like blogging and sharing news with all. I feel blessed everyday that I get to spend my days working with my best friend and love of my life while we continue to grow and expand what started as a hobby all those years ago.