Happy Birthday ~ Haunted Mansion DL! August 9, 1969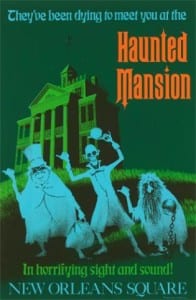 "Welcome, foolish mortals, to the Haunted Mansion! I am your host, your ghost host. Kindly step all the way in please and make room for everyone. There's no turning back now."  ~ voiced by Paul Frees
August 9, 1969 ~  The Haunted Mansion opens to the public in New Orleans Square at Disneyland.  The classic and beloved attraction was opening with much promotion and created quite a buzz among Disney goers.  The promotions included the "I Scream" Sundaes that were sold at Carnation Plaza!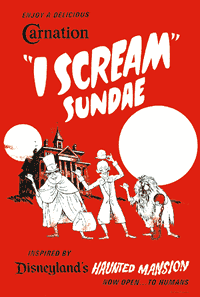 The official Grand Opening wasn't until August 12th, but guests were able to go in and visit all 999 Haunts.  Madame Leota, the famous floating head in the seance room and creepy little ghost at the end of the ride (ie Hurry baaack!!), is modeled after Disney Imagineer, Leota Toombs (Thomas).  The famous Ghost Host is voiced by Paul Frees, and the classic song from the ride, "Grim Grinning Ghosts"  was lead by Thurl Ravenscroft, who also was the voice of Tony the Tiger.

The Haunted Mansion eventually made it's way over to Walt Disney World, of course.  This ride is a classic.  It envelops all that Disney began with, the original magic.  I think the Haunted Mansion is on everyone's "must-do" list whether you're visiting Disneyland or Disney World, I know it's on mine!  As I sit here and write this, I can hear the sounds of the organ playing during and in between commentary from our Ghost Host… can you?  Once you visit the Haunted Mansion, you never forget it, and have the drive to go back.  It's part of the Disney experience.  As a child, I was terrified of Haunted House attractions, and would never go.  The Haunted Mansion is different.  Yes, it's a little spooky, and my pulse still does race when I'm on the ride, but it's fun.  It's Disney!   So today we wish the original Haunted Mansion a very Happy Birthday!  Thanks to Walt and the Imagineers for all the memories!  Here's to many more years to come!