What's the difference between a raven and a writing desk?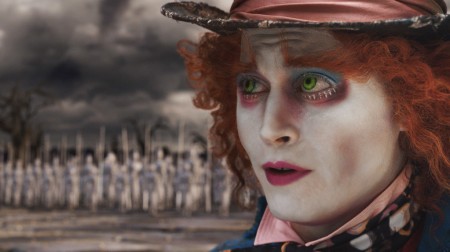 Maybe we will get an answer to the Mad Hatters riddle.  Word is that Johnny Depp is in his final negotiations to be in the sequel to the 2010 hit "Alice in Wonderland" and will reprise his role of the Mad Hatter.  As a Johnny Depp fan, this is exciting to know one of his best characters will be back.   So far speculation is that Tim Burton will not be directing the film, but James Bobin the director of 2011 "The Muppets" will be in charge.  There is no time frame yet for when the film will arrive in theaters but as we find out more information we will be sure to pass it along.

Just in case you were curious about the riddle, there was much speculation to the answer in Lewis Carroll's time.  Carroll wrote:
Enquiries have been so often addressed to me, as to whether any answer to the Hatter's Riddle can be imagined, that I may as well put on record here what seems to me to be a fairly appropriate answer: "Because it can produce a few notes, though they are very flat; and it is nevar put with the wrong end in front!" This, however, is merely an afterthought; the riddle as originally invented had no answer at all.

Note that "nevar" is "raven" spelled "with the wrong end in front" (that is, backwards).
Join the Forum discussion on this post
Co-Owner / Webmaster / Business Relations / PT Writer
As co-owner and co-creator of The Main Street Mouse. Working in a technical support position for 18 years, it was time for a change. As the Webmaster and Project Planner, I spend most of my time researching everything from the latest Disney News, technology advances and of course keeping up on all the Marvel news that comes out. I never considered myself a writer but I've come to like blogging and sharing news with all. I feel blessed everyday that I get to spend my days working with my best friend and love of my life while we continue to grow and expand what started as a hobby all those years ago.