Candlelight Processional Info ~ 2013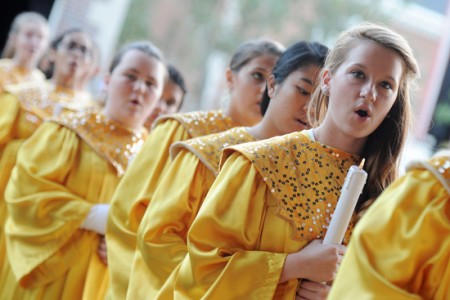 It's Christmas in July!  Tickets for the Candlelight Processional at Epcot go on sale today.  For those of you who haven't seen it, it's a festive retelling of the Christmas story by a celebrity narrator, accompanied by a 50-piece orchestra and a glorious mass choir. Dinner packages (available on select nights) include a fabulous meal at an Epcot restaurant, a guaranteed seat for one of the Candlelight Processional performances and pre-arranged fireworks viewing.  Of course, this is subject to availability, so get your tickets early!  Here is the line up so far for the Celebrity Narrators.
11/29-12/1-TBD
12/2-12/3: TBD
12/4-12/5: Ashley Judd
12/6-12/7: Whoopi Goldberg
12/8-12/10: TBD
12/11-12/13: Dennis Haysbert
12/14-12/16: James Denton
12/17-12/19: Edward James Olmos
12/20-12/22: Trace Adkins
12/23-12/25: TBD
12/26-12/28: Blair Underwood
12/29-12/30: Amy Grant
The Candlelight Processional is performed three times per night throughout the holiday season, November 29–December 30, 2013.  Tickets can be purchased online this year at disneyworld.com!