Monsters University is on the horizon!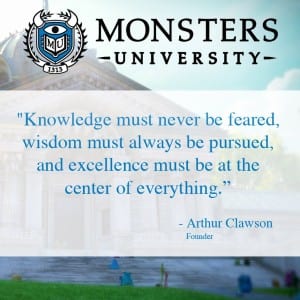 The Scare Team is Back…
I remember months ago, thinking about upcoming Disney films I'd like to see, and thinking how LONG I had to wait to see some of them, like Monsters University.  My oh my, how times flies!  Monsters University is just about here!  With all the hype, and all of the Monstrous Summer promotions that Disney has going, so man fans are ready for the release, myself included!
On June 21, 2013 Disney/Pixar will release Monsters University. This is the prequel to the 2001 hit, Monsters, Inc. In the new film we go back to when everyone's favorite one eyed monster Mike Wazowski and his future scare partner James P. Sullivan (Sulley) go to college. This film is set to take place roughly 10 years before Monsters, Inc. We find that from the start the best friends actually couldn't stand one another at all. They meet through the fraternity they are both members. Mike only 17 and Sulley 18 are both enrolled in Scaring at the university. As enemies they engage in a rivalry that puts them against one another but this will be the reason they become close and become the best of friends.
If you haven't seen it make sure you check out the Monsters University official website to learn about the school. Disney/Pixar took their time and really set this site up to be entertaining. You can find it at http://monstersuniversity.com. Before the movie will be the short film The Blue Umbrella which maybe you have seen the pictures released online.  Again, take a few minutes and spend some time on the Monsters University site, you'll get a kick out of it!  Can't wait till Friday!