Pardon Our Pixie Dust! Refurbishments at Walt Disney World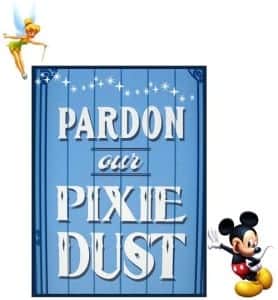 It's that time of year! Many of you are planning upcoming trips to Disney World, whether it be for Easter Break, Summertime, or the Fall/Holidays. If you're like me, you have certain Must-Do attractions or places to visit while vacationing at our Happy Place. It's a huge letdown to walk up to a favorite place, and see the sign, "Pardon Our Pixie Dust." So, why not check the list before you go, to see which places and attractions that are scheduled to undergo a refurbishment this year!
The refurbs for Splash Mountain and Big Thunder Mountain Railroad are complete from what I understand, that's the good news. The following refurbishment list is the most current one I've gotten directly from Disney. Of course, dates and scheduling are always subject to change, but here's what I've found:
Magic Kingdom
Now – June 18, 2013: Main Street Bakery will be closed for refurbishment.
April 10–May 21, 2013: Mad Tea Party will be closed for refurbishment. Prince Charming's Regal Carrousel is the recommended alternate.
May 13-15, 2013: Walt Disney's Carousel of Progress will be closed for refurbishment. Country Bear Jamboree, Hall of Presidents and Walt Disney's Enchanted Tiki Room are recommended alternates.
May 13-16, 2013: Cinderella's Royal Table will be closed for refurbishment.
May 28–June 10, 2013: Prince Charming's Regal Carrousel will be closed for refurbishment. Mad Tea Party is the recommended alternate.
Pirates of the Caribbean will be closed for refurbishment from June 17 through June 20. 2013.
Fantasyland is currently undergoing expansion and is scheduled to open in phases through 2014. Both the Storybook Circus and Enchanted Forest areas are now open. Snow White's Scary Adventures in Fantasyland closed permanently on May 31, 2012. The location will become the new home of the Disney Princesses meet and greet called Fairytale Hall set to debut in 2013. A new roller coaster with a Seven Dwarfs theme will open in Fantasyland sometime spring of 2014.
Epcot
Now–March 29, 2013: Epcot Character Spot will undergo refurbishment. A temporary location will be located between Club Cool and the restrooms,
Now–June 2013: Conversion of former France pavilion bakery to ice cream shop.
Now–Fall 2013: Construction of new restrooms between The American Adventure and the Japan pavilion.
Disney's Hollywood Studios
Both the Disney Channel Rocks! show and the Pixar Pals Countdown to Fun Parade are slated to end permanently on April 6, 2013
Animal Kingdom
Disney Parks announced a long-term relationship with James Cameron's Lightstorm Entertainment and Fox Filmed Entertainment to bring the fantasy world of AVATAR to life at Animal Kingdom Park. The new Avatar land will feature multiple attractions, entertainment, merchandise locations, restaurants and other items to bring the world of Pandora to life. Construction expected to begin by 2013. Allegedly…..??
Downtown Disney
Cirque du Soleil La Nouba will not be performed May 14-18 and 21-25, 2013.
Cirque du Soleil La Nouba will not be performed September 17-21, 2013.
Cirque du Soleil La Nouba will not be performed November 5-6, 2013.
All Star Movies Resort
Duck Pond Pool will close for refurbishment from April 1 through April 12, 2013. Guests may continue to enjoy the Fantasia Pool during this time.
Boardwalk Inn
BoardWalk Bakery will undergo expansion through April 26, 2013. BoardWalk Bakery will be closed during this work, but will reopen with a new entrance, queue area, and refillable mug station. During the closure, a temporary tent located between the BoardWalk To Go kiosk and BoardWalk Joe's Margarita Bar will offer a limited selection of pastries, sandwiches, snacks, and beverages daily from 6:30 a.m. to 11 p.m. Refillable mugs can be filled at the Boardwalk Pizza Window until midnight. Guests can also purchase and refill their mugs at Belle Vue Lounge and Seashore Sweets.
Contemporary Resort
Olympiad Fitness Center will be through April 4, 2013 for refurbishment. Guests may use Grand Republic A in the Resort's conventions center where a temporary fitness center has been set up.
California Grill has closed for refurbishment. Changes to the restaurant will include a tweaked menu and enhancements to the interactive kitchen. The restaurant is scheduled to reopen late summer 2013.
Grand Floridian Resort
The Main Courtyard Pool will be closed through April 11, 2013 for reconstruction to include a zero-entry configuration. The Beach Pool and Pool Bar & Grill will remain open for guests.
Saratoga Springs Resort
The Spa at Disney's Saratoga Springs Resort will be closed through Summer, 2013. Guests may be referred to Senses – A Disney Spa at Disney's Grand Floridian Resort for spa services.