Horizons Part 2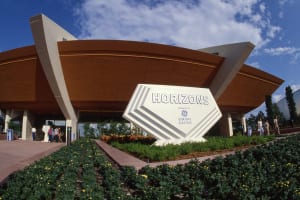 The Ride
Imagineer Tom Fitzgerald was the main story writer as the Horizons project started.
He added the warmth of the story to the models and designs of McGinnis's small scale
models. Tom asked McGinnis if his three children would like to pose for photos and sculpted as audio-animatronic figures for three of the scenes on the attraction. One is the little blonde toe tapper in the Undersea Classroom Scene. One of the boys has a seal attempting to lick his face, and his other son served as the model of the boy floating away from his family at the Omega Centauri's arrival area.
Marty Sklar asked McGinnis to come up with a "weenie" (a term Walt came up with for something that draws your attention) for the ending, and the traveling screen concept was developed. It allowed four guests to "Choose their Future" by voting on touch panels in front of you. You are invited to choose your own flight path back to FuturePort, which is where you launched from. Majority ruled. All the passengers would make their decision and whichever got the most votes, a screen simulation of whichever flight path was chosen would show. The three choices were Space, Desert, or Undersea. Each one was 30 seconds long.
The End
On September 30, 1993 GE's contract to sponsor the attraction expired and within a few months, signs and dialogue mentioning GE were removed. Some ideas were tossed around about what to do with the pavilion. After upgrades and re-theming, the pavilion was to be turned into a space-theme pavilion in which the guest would be in individual space harnesses while viewing space stations and would be able to control the direction the ride turned. But it never came to be.
In late 1994 Horizons closed its doors to guests but not for good. It re-opened in december of 1995 by default because Universe of Energy and World of Motion were closed for refurbs. So if Horizons was closed, the only pavilion would have been the Wonders of Life pavilion on that side of Future World. January 9, 1999, Horizons closed permanently. No reason was given publicly, but there were several probabilities to why it closed. One was the lack of corporate sponsorship which probably played a large part. But the most accepted reason was a large sinkhole under the building along with structural problems. A large hole was visible at the back left of the building when the land was cleared. It's said that the building was close to collapsing under it's own weight. By September 10, 2000, the ground was completely clear and ready for preparation of a new pavilion, Mission: Space.
There are several references to Horizons throughout various theme parks. In Mission: Space, the center of the gravity wheel in the queue line, the Horizons attraction logo can be seen. There is also a version of it on the check out counter at the Cargo Bay, the Mission: Space gift shop. At Disney Hollywood Studios , a few of the props from the underwater city scene are displayed in one of the studio warehouses. When Space Mountain underwent a refurb in 2009, one of the bags in the post show area has "Mesa Verde" written on it. And located at the exit of Star Tours, at Tokyo Disneyland, is a kiosk featuring video of 3 other Star Tours excursions. Each tour advertised is the full 30 second sequence from the Horizon "Choose you Future" finale.
Even though old classics must sometimes come and go, they can and often do leave an everlasting impact on us. There will be other classics to come and go or be drastically changed but with today's technology the memory of how they existed can be preserved.
-Disney had to pay royalty for the use of "Happy Birthday" since it was owned by the Sunny-Birchard Music Company
-It used 174 Omnimover vehicles with 10 extra
-Held 3-4 guest per car
-Ride length was 14:45 minutes
-Pavilion surface area was 37,000 sq ft.
-Used 3,700 tons of steel. More than Spaceship Earth
-Held 696 guests
-Estimated cost was $60,000,000 even after a $10,000,000 budget cut
Author:
ctucker773
Corey Tucker has been a writer, moderator, and an admin, amongst various other roles with the TMSM for over 8 years. When he's not playing with radiation at his day job at a nuclear plant, he can be found hanging out with friends and family and possibly planning another trip to Walt Disney World. If you frequent the site very often (or at least on Tuesdays) then you've probably heard of the world famous blog posting "Tuesdays with Corey", that's him. Every Tuesday he has a blog about foods, history of the parks or whatever he feels is pertinent at the moment. So if you don't currently read his blogs, please start. It's been known to change lives…really it has.