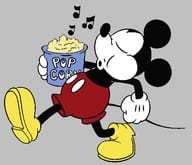 You plan your Disney vacation. You are super excited. You tell a friend or two. Then…. you hear that question… "You're going to Disney, AGAIN?" Yes, again! Or maybe, someone asks "weren't you just there?" or "don't you get tired of going to the same vacation spot?" They don't understand why you go all the time, and you don't understand why they don't go!
I suppose this could be a spinoff of the previous blog, pertaining to what makes Disney so special to us. The Magic of Disney can really put a hold on your heart, like no other place can. A lot of us feel the need to plan another Disney vacation, even before we come home from the current one. Why is that? Why do we keep going back? I think it's a simple answer really. Because Disney is Magic!

Where else in the world can you go where your favorite childhood dreams come to life? Where else can you go to escape the realities of everyday stresses? Where else can you go to feel like a kid again, and feel totally fine with not growing up? Disney, that's best answer. I know for me and my family, there really is no other place that comes to mind when it's time to discuss a vacation. I've gotten so bad, that I have a hard even taking small trips locally, because I know that money could go towards our next adventure to Disney. A little Disney OCD? Maybe so. That's fine by me though.
Sometimes I think about going someplace else for a family vacation. I've thought about the beach, other amusements parks, the islands, etc. But when push comes to shove, and it's time to decide on where to go, we always end up choosing Disney. It never gets old. It's never boring. It always gives me that feeling of home. You get it, right? I thought so!
So, when someone asks you why you're going to Disney "again", don't feel bad. Some get it, some don't. I would encourage you to try and share the Disney Magic if you can, tell them they don't know what they're missing, because they don't. Once you go spend time with the Mouse and all his Pals, it's hard to say no when it comes time for a getaway. Life is short, spend more time at Disney!