Love is in the air – and treats will soon be in your stomachs – because Valentine's Day is nearly here. The Disney chefs and mixologists are concocting love potions of their own this year with delicious flavors that will awaken your heart and taste buds.
Both Walt Disney World Resort and Disneyland Resort are about to take you to cloud nine with the sweet and savory sips and eats being served up as Feb. 14 draws near. Embrace the season of love with delights like the wildly adorable Zebra Mousse Cake at Disney's Animal Kingdom Lodge, the can't-miss Beauty and the Beast Cake at Disney Springs, and, of course, the beautifully delicious Sweetheart Sundae at Disney California Adventure park.

I think it's finally time to fall in love with flavor. Grab your loved ones, friends, or simply treat yourself with the Valentine's Day goodies in this Disney Eats Foodie Guide!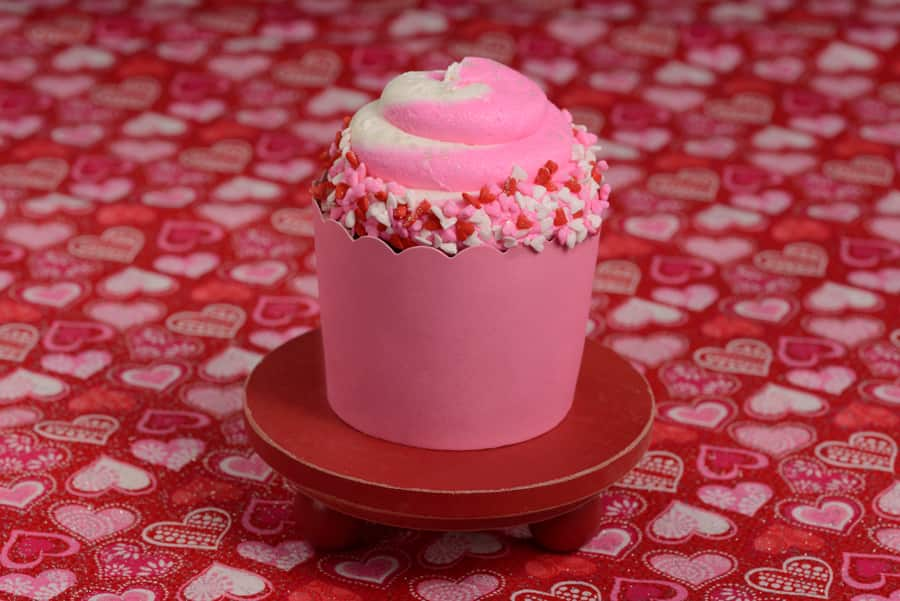 Walt Disney World Resort 
Walt Disney World Resorts 
Available at Various Resorts (Available through Feb. 28; mobile order available) 
My (Plant-based) Sweetheart Chocolate cupcake with a love-ly swirl of vanilla buttercream and sprinkles (New) (Plant-based Item) (Wheat/ Gluten Friendly); Available at the following:

World Premiere Food Court at Disney's All-Star Movies Resort
Intermission Food Court at Disney's All-Star Music Resort
End Zone Food Court at Disney's All-Star Sports Resort
Landscape of Flavors at Disney's Art of Animation Resort
Centertown Market at Disney's Caribbean Beach Resort
Spyglass Grill at Disney's Caribbean Beach Resort
Sassagoula Floatworks and Food Factory at Disney's Port Orleans Resort – French Quarter
Riverside Mill Food Court at Disney's Port Orleans Resort – Riverside
Everything POP Shopping & Dining at Disney's Pop Century Resort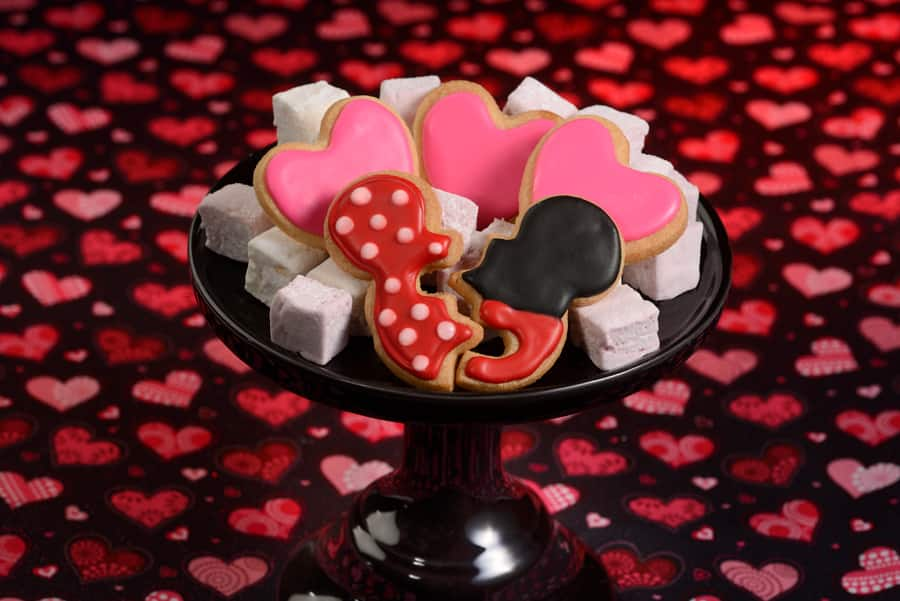 Disney's All-Star Movies Resort, Disney's All-Star Music Resort, and Disney's All-Star Sports Resort 
World Premiere Food Court, Intermission Food Court, and End Zone Food Court (Available through Feb. 14; mobile order available) 
Be My Valentine Sweet Treat Bag: Sugar cookies with house-made vanilla and raspberry marshmallows (New)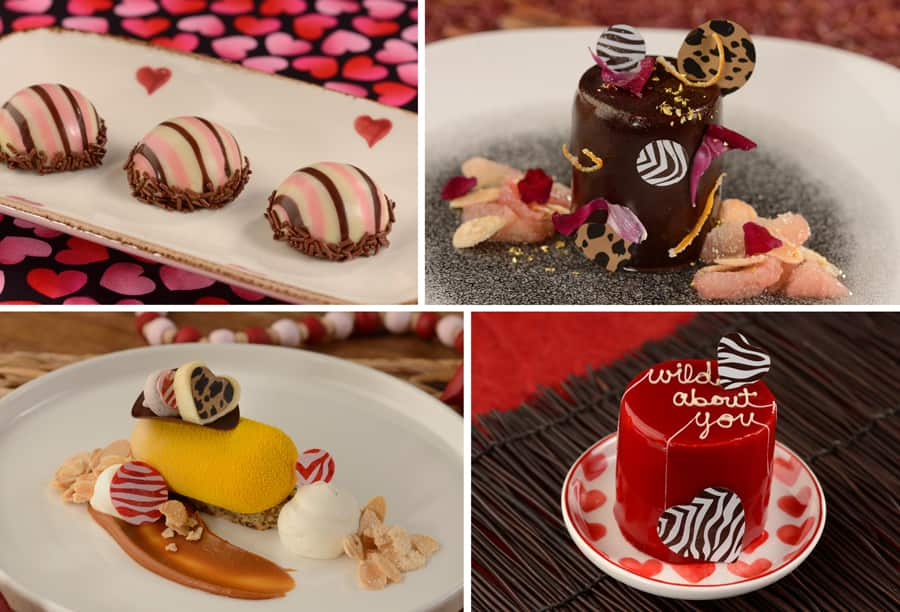 Disney's Animal Kingdom Lodge 
Boma – Flavors of Africa (Available Feb. 10 through 14) 
Zebra Domes: The classic Amarula mousse and white chocolate dessert with the addition of a pink stripe
Jiko – The Cooking Place (Available Feb. 13 and 14 only) 
Wild About Mousse: Madagascan milk chocolate mousse, pistachio sponge, marinated citrus, and candied almonds (New) 
The Mara (Available Feb. 10 through 14; mobile order available) 
Zebra Mousse Cake: Amarula mousse cake inspired by the flavors of the iconic Zebra Domes (New) 
Sanaa (Available Feb. 13 and 14 only)
Bananas For Mousse: Banana cake, peanut butter mousse, banana jam, banana cream, candied almonds, and caramel (New)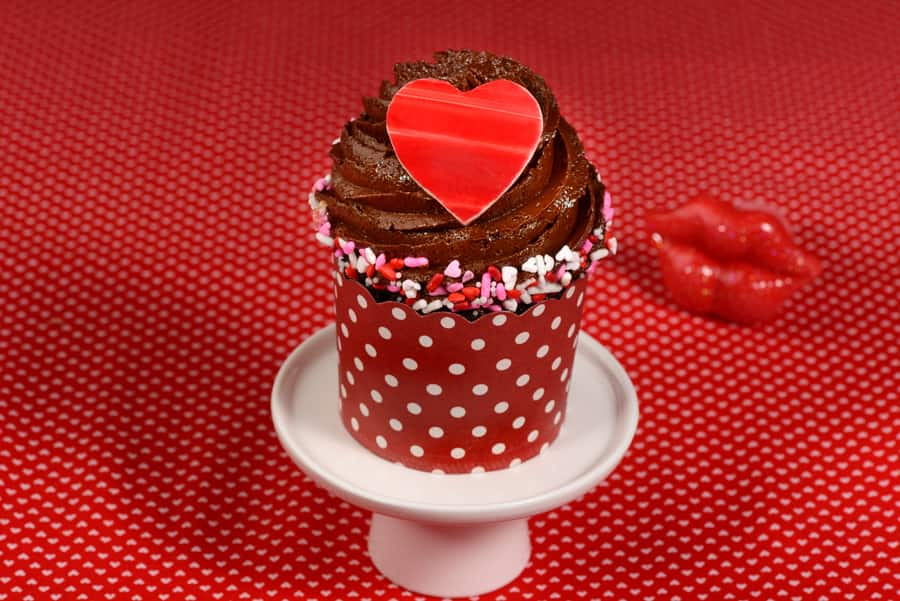 Disney's Art of Animation Resort and Disney's Pop Century Resort 
Landscape of Flavors and Everything POP Shopping & Dining (Available through Feb. 14; mobile order available) 
Chocolate Lover's Delight: Chocolate cupcake with hazelnut filling, chocolate hazelnut buttercream, white chocolate heart décor, and sprinkles (New)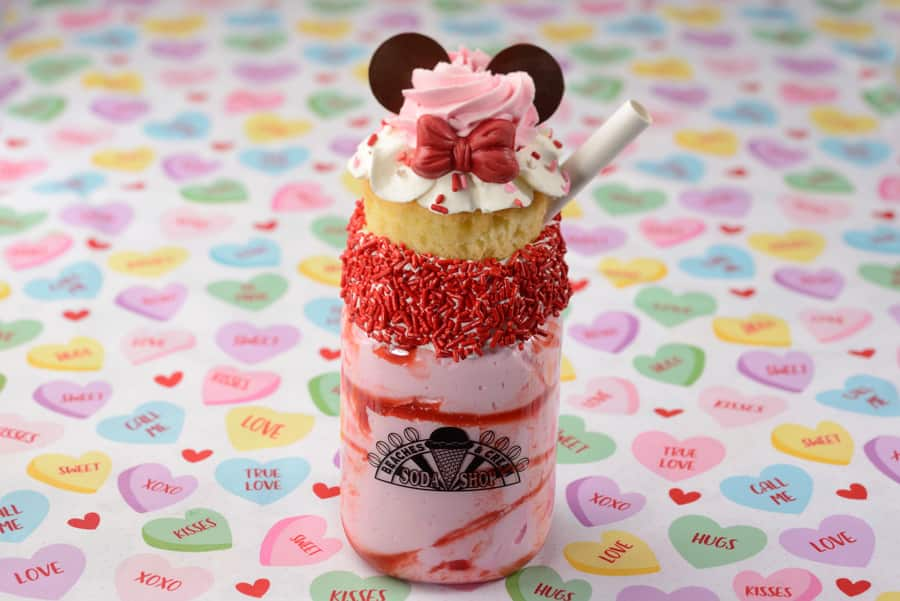 Disney's Beach Club Resort 
Beach Club Marketplace (Available through Feb. 14; mobile order available) 
Sweets For My Sweet: Layers of cream cheese mousse, strawberry filling, vanilla cake, and a crispy strawberry vanilla base with glaçage and white chocolate décor (New) 
Beaches & Cream Soda Shop (Available through Feb. 28) 
Strawberry Minnie Milkshake: Strawberry milkshake with strawberry purée, red sprinkles, and a Minnie Mouse vanilla cupcake (New)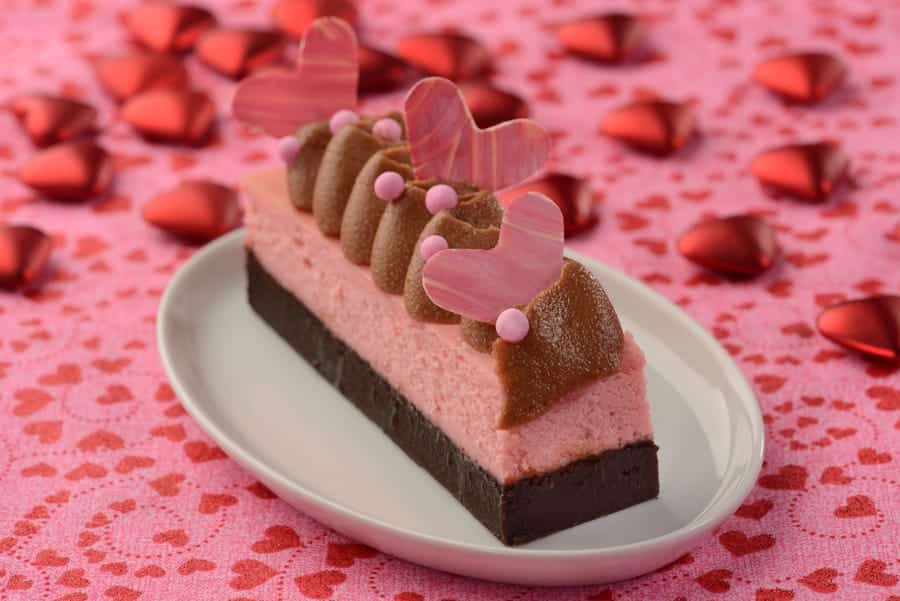 Disney's BoardWalk 
BoardWalk Deli (Available through Feb. 14) 
Strawberry Cheesecake Brownie: Strawberry cheesecake with chocolate cream and pink crisp pearls on a fudgy brownie (New)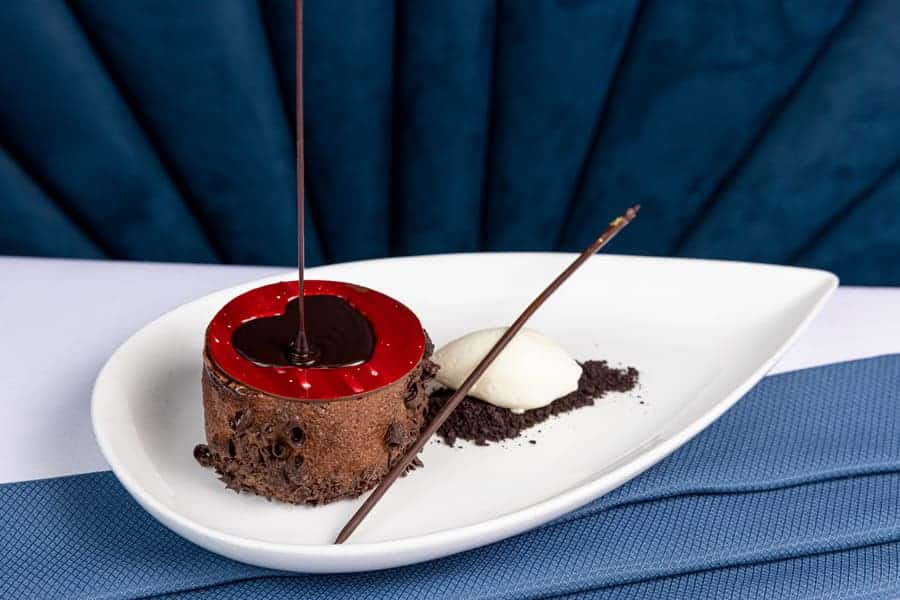 Flying Fish (Available Feb. 14 only) 
Cocoa Breach: Vanilla custard, chocolate bavarois, and feuilletine crunch with a heart-shaped overlay
Disney's Caribbean Beach Resort 
Centertown Market (Available through Feb. 14; mobile order available) 
Dessert Bites: Mini brownies, white chocolate-dipped strawberry, and raspberry ganache-filled tart with buttercream (New) 
Disney's Contemporary Resort 
California Grill (Available Feb. 14 only) 
Valrhona Ganache Torte: Whipped vanilla panna cotta, chocolate soil, strawberry gel, raspberry ganache macaron, and a chocolate-covered strawberry (New)