"Avatar 4," the fourth film in the 20th Century Film Franchise by James Cameron, is so insane that after a studio executive read the script they gave James Cameron a note which read, "Holy ****!" That's it! Which was meant in a good way of course.
As we all know, when "Avatar" first premiered in theaters the film was met with very high acclaim. In fact, to date, the movie is still considered to be one of the highest grossing films of all time–so naturally, filmmaker James Cameron has to bring his A-game when penning the rest of the scripts in the series.

In a recent interview with Collider, Cameron discussed the process of turning in all the scripts for the film series, which has already been written and filmed, saying: "I can't tell you the details, but all I can say is that when I turned in the script for 2, the studio gave me three pages of notes. And when I turned in the script for 3, they gave me a page of notes, so I was getting better. When I turned in the script for 4, the studio executive, creative executive over the films wrote me an email that said, 'Holy f-ck.' And I said, 'Well, where are the notes?' And she said, 'Those are the notes.' Because it kind of goes nuts in a good way, right?"
The next film to be released in the film series is "Avatar: The Way of Water," which lands in theaters on December 16th.
Here is the official synopsis for the movie:
Set more than a decade after the events of the first film, Avatar: The Way of Water tells the story of the Sully family, the trouble that follows them, the lengths they go to keep each other safe, the battles they fight to stay alive, and the tragedies they endure.

— 20th Century Studios
What are your thoughts on this epic note the 20th Century Fox Studios executive gave to James Cameron regarding his fourth film in the "Avatar" franchise? Let us know in the comments!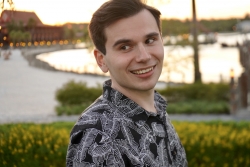 Latest posts by Sean Sposato
(see all)