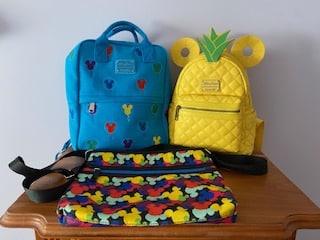 Hey Main Streeters!
We all know that a day in the Disney parks can be long, and you never know what you might need to make it through.

Packing a park bag can be a daunting task, but I am here to give you my best tips and tricks!
The first thing you need to do is decide what kind of bag you want to bring with you.
You are pretty much allowed to bring whatever bags you want in with you, you just have to go through a security check before scanning into the park.
I guarantee that you will see people with a wide range of bags. Some of the more popular ones are:
-Loungefly mini backpacks-These are super convenient because they are backpacks so your hands are free. You can also find them for just about every movie/character/fandom, so you can represent your favorites!
-Dooney and Bourke purses and totes-These are a little bigger so you can fit more in them.
-Vera Bradley purses, totes and crossbodies-Lots of options for different types of bags.
Once the bag has been chosen, it's time to fill it up!
Here is my list of must haves: (That could change depending on the weather.)
*Sunglasses
*Sunscreen
*1st aide supplies-a few band aids, mole skin, pain reliever, Kleenex.
*Wallet
*Magicband or park ticket
*A pen and small paper
*Phone and/or camera
*Chargers for your phone/camera
*Trading pins
*Autograph book
*Minnie ears or hat
*Rain poncho
*Umbrella
*Water bottle
*Ziploc baggies-these can store leftover snacks and protect items from getting wet in the Florida rain. (Like your phone or camera.)
*Snacks
This is definitely not a complete list. You know what you and your travel party will need, but hopefully it gave you some ideas.
A few other things to keep in mind:
Check the weather for the day of your visit. That can really affect what you pack.
As you go through security, have your bag open and ready for them to look into.
You will have to take your bags with you on rides. Most of the time there is plenty of space by your feet to keep it safe.
There are lockers in each theme park and the water parks. You can pay for one and put your bag into it if you get tired of carrying it.
I hope this gives you some ideas and makes your day at Disney even more magical!
Latest posts by Sarah Cooley
(see all)