Avatar has officially been pulled from the Disney+ streaming service in preparation for its return to theaters. However, for those looking to see it one more time before its sequel makes its way to theaters, Disney promises the film will return to the streaming service again right before "Avatar: The Way of Water" debuts.
The news comes from sources close to Variety, who also say the theatrical re-release is intended to promote the film's long awaited sequel, which is said to be presented in new, 4K high-dynamic range restoration. The original "Avatar" is said to have a limited, two-week run in movie houses.

According to the same sources, the original film is set to return to Disney+ at an unspecified time before December 16, the release date for "The Way of Water."
For those who do not want to go to theaters to see the film it's worth noting that it is still available for viewing on online rental services, including YouTube, Apple TV, and Amazon Prime Video.
Here is the official premise for "Avatar: The Way of Water" via 20th Century Studios.
"Set more than a decade after the events of the first film, Avatar: The Way of Water begins to tell the story of the Sully family, the trouble that follows them, the lengths they go to keep each other safe, the battles they fight to stay alive, and the tragedies they endure."
The film was originally set to be released in theaters in 2014. Although, the addition of three more sequels (to the first one) and the necessity to develop new technology in order to film performance capture scenes underwater led to extreme delays.
This also allowed the crew more time to work on the writing, preproduction, and visual effects of the film. For this reason, filming for the moving didn't begin until August of 2017.
Will you be seeing "Avatar" when it is temporarily re-released in theaters? Let us know in the comments!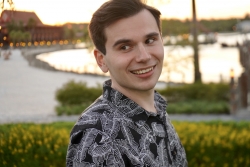 Latest posts by Sean Sposato
(see all)