If you're like us, you probably can't wait to see all of what Disney has in store for 2022 and 2023 with its film releases. Well, thanks to a special presentation by the company, it seems we now have an inside look!
As shared by Comicbook, Disney revealed its full movie slate for both 2022 and 2023 during a presentation at CinemaCon on Wednesday. Producer Jon Landau ran through the entire lineup, starting off with Doctor Strange in the Multiverse of Madness (slated to premiere on May 6) followed by Lightyear (June 17), The Bob's Burgers Movie (May 27), Thor: Love and Thunder (July 8), The Banshees of Inisherin (Oct. 21), a re-release of Avatar (Sept. 24), Black Panther: Wakanda Forever (Nov. 11), Amsterdam (Nov. 4), The Menu(Nov. 18), Strange World (Nov. 23), Avatar: The Way of Water (Dec. 16), The Marvels (Feb. 17, 2023), The Haunted Mansion (March 10, 2023), Guardians of the Galaxy Vol. 3 (May 5, 2023), Indiana Jones (June 30, 2023), The Little Mermaid (May 26, 2023) and Ant-Man and The Wasp: Quantumania (July 28, 2023).
All the slate of @Disney films #Cinemacon2022 #CinemaCon #Disney #Avatar2 pic.twitter.com/C7oqm6HCyF

— PYTLOS (@PYTL0S) April 27, 2022

For those not familiar with Cinemacon, it took place this year between Apr 25, 2022 – Thu, Apr 28, 2022 and is a convention attended by international and domestic cinema representatives from single-screen to 2,000+ screen companies; distribution, marketing, and publicity representatives from international motion picture studios; worldwide equipment and concession vendors, and, representatives from all ancillary markets and facets of the motion picture industry from media to the filmmaking community, per the event's official website.
Typically, this is where we get a sneak peek at all the exciting films that are coming to premier the following year in theaters.
One other highlight that came out of this year's special event was a look at footage from the upcoming "Avatar 2" film. Per a report by Variety, "it seems CinemaCon attendees were given 3D glasses to watch the minutes-long trailer, which contained almost no dialogue. Instead, exhibitors were immersed into different regions across the dazzling world of Pandora through sweeping visuals of the planet's crystal blue oceans and lakes. The footage also shows the local tribe of Na'vi interacting with various species resembling whales and pelicans, some of which flew through the screen and into audience member's faces thanks to the three-dimensional technology."
Which of these exciting films are you excited to see in the coming few years? Let us know in the comments!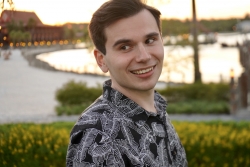 Latest posts by Sean Sposato
(see all)