'The Kardashians,' the new series starring the Kardashians set to premiere on Hulu in the United States, has officially been revealed to be landing on Disney+ upon its release in the United Kingdom.
For those familiar with or who may already have subscriptions to The Walt Disney Company's family friendly streaming service Disney+, you're probably aware of the fact that the service typically carries content that is more suitable for all ages. However, it seems "The Kardashians," which is being billed as a series similar to the previously aired reality TV show "Keeping Up With The Kardashians," will be airing on the platform, regardless.

The original series, "Keeping Up With The Kardashians" which came to an end last year after 20-seasons, featured heavy storylines revolving around topics that might typically be suited for a mature or older audience. It's worth noting that Hulu is not currently available in the United Kingdom due to copyright and licensing agreements.
At this time, The Walt Disney Company and Hulu have no other streaming service in the UK besides Disney+, which explains why the Hulu original series could have ended up on the family friendly service.
For those not familiar with the series, it follows one year after 'Keeping Up with the Kardashians' finished its 20-season run on E!. The Kardashians aims to be a less-structured look into the family's lives on a daily basis.
Similar to the previous series, this new show will include Kris Jenner and her daughters Kim, Khloe and Kourtney Kardashian along with Kylie Jenner and Kendall Jenner.
Kim previously revealed that filming on "The Kardashians" started last year in September of 2021. "The Kardashians" premieres on Disney+ in the UK on April 14.
What are your thoughts on "The Kardashians" landing on Disney+ in the UK? Let us know in the comments!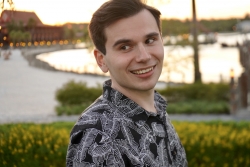 Latest posts by Sean Sposato
(see all)